Lindenwood University held an open house and ribbon cutting ceremony for its new Collinsville extension center on Oct. 13.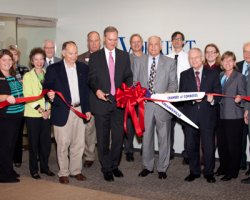 The Collinsville center is the first extension facility to be opened by the Lindenwood Belleville campus. In June 2014, Lindenwood University leaders signed a five-year lease on 15,000 square feet of space located at 1101 Eastport Plaza Drive in Collinsville. Starting this month, the space will be used for undergraduate and graduate classes in the accelerated evening program, as well as graduate classes in education and counseling.
"We are thrilled to be able to accommodate our growing student population by providing another convenient location for classes in Collinsville," said President of Lindenwood Belleville Jerry Bladdick. "I would like to thank Mayor John Miller, the City of Collinsville, and the Collinsville Chamber of Commerce for their support and encouragement as we seek new ways to serve Lindenwood students and the greater community."
The Lindenwood University Collinsville Center will host a preview day for prospective students on Nov. 8, with check-in starting at 8:30 a.m. For more information on the Collinsville center, contact Kendra Kostelac at (618) 671-6490.