Kasey Washausen still vividly remembers nervously sitting behind the microphone for the first time in the radio studio at Lindenwood University-Belleville.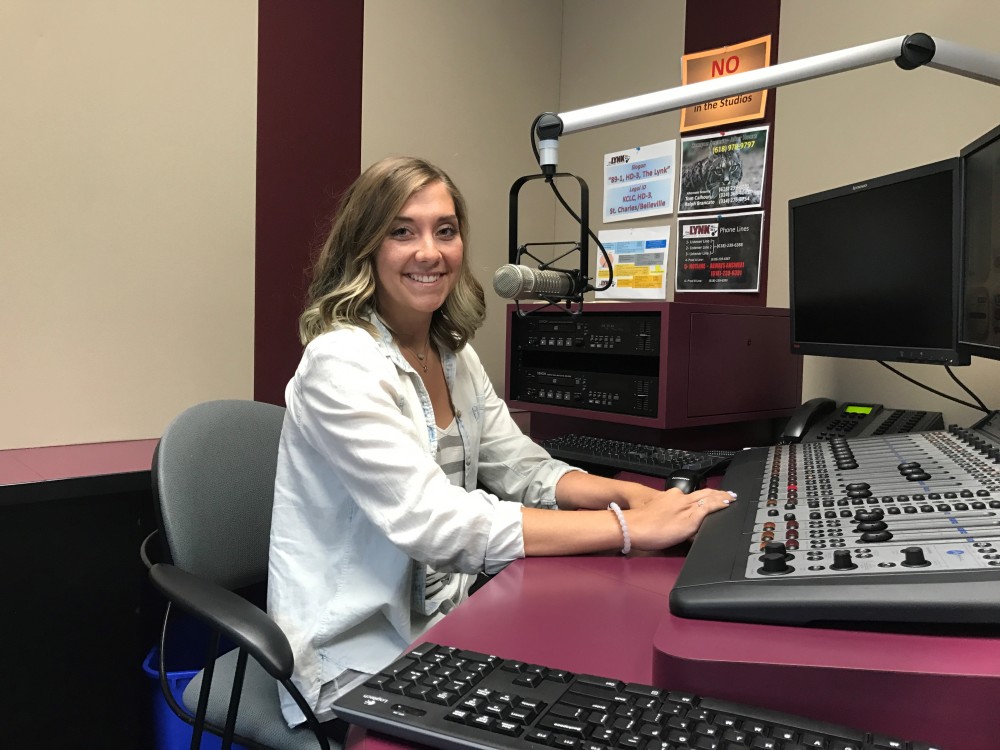 That was in the spring of 2015. Two years later, she's a brand new graduate with a bachelor's degree in mass communications and a new career, which started with a regular shift on the air at a St. Louis radio station before she was even handed her diploma.
You can hear Washausen as she handles the 7 p.m. to midnight shift Monday through Saturday on the airwaves of 96.3 Now FM.
"I came here not knowing what I wanted to do," Washausen said. "I spent a lot of time looking through all the majors and kept coming back to communications. I was very shy when I started, but my counselors and instructors really took the time to prepare me. I was nervous that first time on the air, but by the time I was done, I was more excited than nervous and I couldn't wait to come back."
Washausen said the guidance her instructors provided, which is based on their decades of experience in the industry, gave her the confidence she needed to get comfortable behind the microphone. Because of that, she was able to discover--and reach--her potential.
Lindenwood Belleville Director of Radio Operations Tom Calhoun, a veteran announcer and broadcaster, said he was impressed by Washausen's eagerness to learn. He said he enjoyed watching an introverted teenager turn into a polished and confident broadcaster.
"Our staff has a lot of experience to share with students." Calhoun said. "I could tell when I gave her tips and guidance that it was really soaking in and registering. She took those things to heart and worked hard to get better and better. She's been a great student."
Brendan Leahy, assistant professor of communications, agreed with Calhoun's assessment of Washausen.
"She has been a very ambitious student and has never been afraid to look at herself in search of weaknesses she can improve," Leahy said. "Because of that, she has raised the bar for other students who see what she's accomplished and become inspired."
Calhoun said Lindenwood's on-campus radio and television studios are key tools that help make sure students are prepared for the workplace when they graduate.
"I tell students that when they're starting out, they're going to make mistakes," Calhoun said. "But when they have the opportunity to gain the experience of working on the air on the campus station, they can get all the mistakes, nervousness, and uncertainty out of their systems well before it's time for an audition."
Washausen said one of the things Calhoun told her was that internships are very important to young talent trying to break through in the radio industry. So, she aggressively pursued an opportunity with Emmis Communications, owner of several local channels. Washausen worked 12 weeks for 105.7 The Point on the morning Rizzo Show. While she was at The Point, Washausen caught the attention of management of a station down the hall, KSHE 95, and spent another 12 weeks volunteering there. When the internships were complete, Washausen had made such an impression that she was asked to fill in for a Now 96.3 employee on maternity leave.
"It's all very exciting how things unfolded," Washausen said. "I couldn't imagine that I would have a job on a radio station before I even graduated.
Washausen said she had no idea what she wanted out of a career before she got to Lindenwood and had a chance to sample the possibilities.
"I think the radio industry is a lot of fun and it keeps me interested," Washausen said. "And it's a big advantage to be able to do what you love."