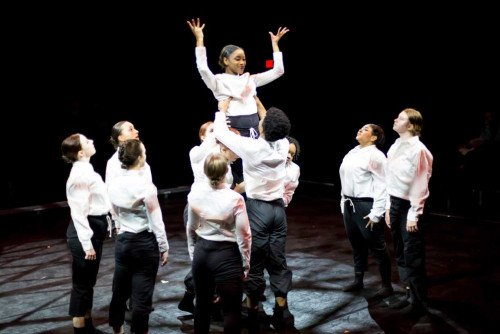 Last week 18 students from Lindenwood's very own dance program returned from Whittenberg University in Springfield, Ohio, where they participated in the American College Dance Association's four-day East Central Conference.
Here 26 universities from around the country gathered to present their work for adjudication to a panel of nationally recognized dance professionals. The individuals were also invited to participate in master classes, research presentations, concert viewings, and constructive feedback sessions covering various forms, styles, and aesthetic dimensions. Over the course of the four-day conference, Janet Strzelec, Amy Gammon, and Tricia Zweier taught more than 200 students ballet, acting, contemporary, and jazz dance genres.
Additionally, the students were encouraged to participate in a variety of special opportunities, such as performing in an informal concert, collaborating with fellow dancers in The Rise and Shine Choreographic Project, and showcasing their video choreography if they choose. Upon their return, Lindenwood University's Sydney Gibbs learned that her piece "From Life" was received with great enthusiasm. Lindenwood also screened five student films from Gavin Lewis and Danny Gerber, Tiala Taylor, Morgan Brockmiller, Sydney Gibbs, Michelle Hughes, and one film from dance faculty Tricia Zweier, which appeared in The Video Choreography Showcase.