Richard Hunsaker makes a return to the Lindenwood University-Belleville Auditorium stage, his former "second home," as Sidney Bruhl in the comedy-thriller "Deathtrap," Nov. 4-7 and 11-14, 2010. Show times are at 7:30 p.m., Thursday through Saturday, and at 2 p.m. on Sundays at the Belleville campus, located at 2600 W. Main Street in Belleville, Ill.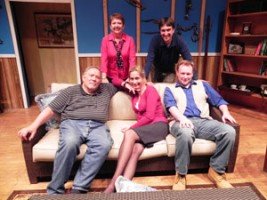 The Brass Rail Players community theatre group calls the University's auditorium home. The renovated space was previously part of Belleville Township High School West, where Hunsaker taught speech, debate, and drama for 35 years and also directed more than 60 plays and 26 musicals.
In fact, the last play Hunsaker directed, "Pippin," featured Lindenwood Belleville freshman Zach Rogers; who will play opposite Hunsaker in "Deathtrap" in the role of Clifford Anderson. Rogers currently teaches English, theatre, and film at Belleville East High School and said he is thrilled to be working alongside his mentor and another former high school director, Janet Kuehn.
Kuehn initially worked with Hunsaker as a student teacher, and later became his employee. Over the years, they have worked with Carol Harms, who is the speech and debate coach at Belleville Township High School East and plays the supporting role of Helga Ten Dorp in "Deathtrap."
Also in supporting roles are Carlyle native Ryan Norrenberns of Belleville, as attorney Porter Milgrim, and Granite City native Michelle Meehan Schrader of Smithton as Sidney's wife, Myra Bruhl.
So it's old-home-week for several cast members, who are thrilled to work together again.
"Sometimes life has a way of coming full circle. I graduated from Belleville West High School and it was my work in speech and theatre that convinced me to major in Communications in college," Janet Kuehn. "After graduating from the University of Illinois, I returned to West to do my student teaching. My cooperating teacher, Dick Hunsaker, was the same man who had inspired me in high school. He went on to be my boss, and a very special friend," she continued.
Hunsaker, who has spent retirement performing at various community theaters throughout the region, said he is very pleased to be back on the stage he knows so well.
"It has been an extremely enjoyable experience. The renovation of the building itself was something that I had dreamt about many times. To see that happen is most gratifying," he said. "Then there's the happy experience of working with former teacher and colleague Janet Kuehn, former student-teacher Carol Harms and former student Zach Rogers, but also of meeting and working with talented new friends Ryan Norrenberns and Michelle Schrader."
Rogers, last seen as Robbie Hart in the Brass Rail Players' inaugural show, the musical comedy "The Wedding Singer," in July, said he couldn't pass up working with people who meant so much to him. "I am honored to have the opportunity to return to this stage and share this experience with two past directors who helped shape my love of theatre," he said.
Schrader said her return to the stage has been scary and exciting at the same time. "I feel privileged to work with such amazingly talented actors. Dick is a legend in local theatre. Janet is a fabulous director," she said.
The longest-running comedy thriller in Broadway history, Ira Levin's "Deathtrap" is a mystery with twists, turns and humor. Sidney Bruhl is a successful Broadway playwright who hasn't had a hit in awhile. When a former student's brilliant play appears, Bruhl hatches a plot to kill ambitious Clifford Anderson and claim the work as his own. But his means of curing writer's block doesn't go as smoothly as planned.
With its clever premise, witty dialogue, surprises, and intriguing cast of characters, "Deathtrap" was Levin's most successful stage work, running from 1978 to 1982 for more than 1,800 performances. Levin also wrote the novels "Rosemary's Baby," "The Stepford Wives," and "The Boys from Brazil," which were adapted into hit movies.
Ticket prices are $15 for adults and $12 for seniors (ages 60 years and older), military personnel, and students. Group tickets at $12 for 20 or more patrons can also be arranged in advance. The box office opens one hour prior to the show, and concessions are available in the adjacent Welcome Center.
Tickets can e reserved by calling (618) 767-6016, or by calling executive director Lynn Venhaus at (618) 416-2387, or by emailing her at lvenhaus@charter.net. For further details about Brass Rail Players, visit www.brassrailplayers.org or visit the group's Facebook page.