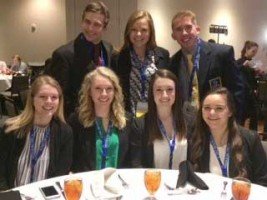 Lindenwood University's DECA team recently won four first-place awards at the Missouri state competition at the Lake of the Ozarks.
The first-place awards were as follows:
Monica Eckelkamp—restaurant and food service management
Monica Eckelkamp, Taylor Helper, and Conner Helper—advertising campaign
Jonathan Dunlop—banking financial services
Jamie Greco—entrepreneurship
In the food service management and banking categories, participants took an exam and participated in a role-playing scenario for judges. The advertising and entrepreneurship participants prepared reports of up to 15 pages and presented them to judges.
The first-place winners are eligible to participate in the national DECA competition later in the year.
Founded in 1946, DECA's stated goal is to prepare emerging leaders and entrepreneurs in various disciplines. DECA's membership is divided into high school and collegiate divisions.