On Friday, May 17, Lindenwood University's Board of Directors voted to name Dr. Jerry Bladdick, formerly vice president and chief administrative officer for Lindenwood University-Belleville, the campus' first president.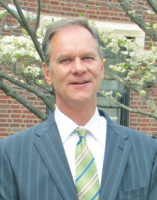 Bladdick had been vice president and chief administrative officer for the Belleville campus since July 2009. Under his leadership, the campus has been transformed from an extension campus offering evening and graduate classes for working adults into a full-service campus that just held its inaugural commencement ceremony over the weekend with more than 500 graduates.
"Dr. Jerry Bladdick's title was changed to reflect the scope of his responsibilities," said Dr. James D. Evans, president of Lindenwood University. "We are very pleased with his leadership in the recent growth of our Belleville campus, its student body, its faculty, and its programs. He and his team have shaped the campus into a full-service, high-quality liberal arts college located in the great City of Belleville."
Bladdick's history with Lindenwood began in 1987 when he began serving the university as the director of admissions for graduate and undergraduate programs. In 1994, he was hired at Fontbonne University, where he served as manager for the university's Institute for Professional Development and later as the associate vice president for graduate, adult, and continuing education.
He recounts that in 2009 he received a call from Lindenwood President James Evans and Vice President for Human Resources Rick Boyle asking to meet with him to discuss their vision for Lindenwood University-Belleville.
"I could see the vision that Dr. Evans described for the Belleville campus and wanted to see it become a reality," said Bladdick.
When Bladdick joined the Belleville campus in 2009, there were only 13 employees. Today, the campus boasts over 100 faculty and staff in total.
Bladdick's arrival at Lindenwood Belleville marked the beginning of the campus' day program, which started out with an enrollment of 100 students. In three years, that number has grown to 800 and is expected to top out at 1,000 in fall 2013. Currently, the combined student enrollment in the day and evening programs totals approximately 1,750.
Lindenwood Belleville's burgeoning number of degree offerings has fueled the rapid growth of the student body. Before the creation of the day program, the campus only offered graduate degrees in education and counseling. The LCIE program, structured in an accelerated evening format, was instituted at the campus in 2004, bringing with it degrees in communications, healthcare management, human resource management, criminal justice, and business administration. Under Bladdick's leadership, that number has more than doubled within the last five years and now totals more than 30 undergraduate and graduate degrees in a wide variety of fields.