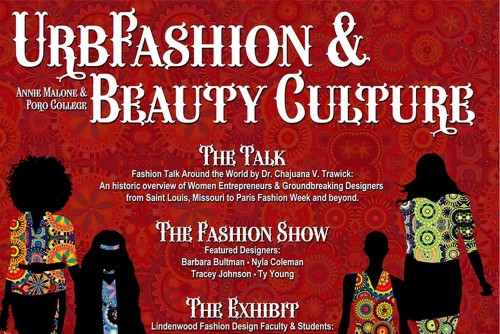 Lindenwood University's Fashion Exhibition and Fashion Show will be held from 7 to 9 p.m. Thursday, June 1, 2017, at UrbArts in St. Louis. The art gallery will have the work of Lindenwood University's fashion design faculty, students, and alumni on display from May 12 to June 4. UrbArts is located at 2600 N. 14th Street in St. Louis. The event is free and open to the public.

The exhibit has designs from Lindenwood's current draping students: Jordan Baumgartner, Adam Brewster, Jessica Cruz, Anna Heinold, Tal Hunter, Rachel Jagust, and Linda Nicholson; and recent graduate Raven Pulliam. The exhibit will also include Adjunct Instructor Ameli Skoglund-Blaser's Ideas from the North F/W 2017-18 hand-knitted and crocheted collection; Assistant Professor Nasheli Juliana Ortiz's and Emilio Maldonado's Politics of Exchange fashion collection, along with an artistic painting of a door by Maldonado; the Lindenwood Historic Costume Collection of vintage wedding gowns from 1910 to 2015; the DesiGns by CVT 2005 collection of hand-painted Fruit of the Spirit tops and tulle skirts; and a research board display on Annie Malone and Poro College Beauty Culture in St. Louis, MO from 1915-1930 provided by Fashion Design Program Chair Dr. Chajuana V. Trawick.

The fashion show highlights four local designers and two Lindenwood alumni: Barbara Bultman, Nyla Coleman, Tracey Johnson, and Ty Young of Enk'd Brand. Preceding the show, Trawick will present "Fashion Talk Around the World: An Historic Overview of Women Entrepreneurs and Groundbreaking Designers from St. Louis Missouri to Paris Fashion Week and Beyond." Trawick will close the event with a discussion of the new and exciting things happening within the Lindenwood University Fashion Design Program, including three new online degree programs and a third study abroad opportunity to Paris, France!

Guests can also shop from a Designer Trunk Sale and Vintage Boutique with 20 percent of all proceeds returning to the Urban Artists Alliance for Child Development, a 501(c)(3) nonprofit organization.