Nearly 90 Lindenwood University-Belleville students and staff members gave up three hours of their weekend on Sunday, Nov. 5, to take part in the first Lynx in the Community event.
"We went to four homes of senior citizens and cleaned up their property for them," said Lindenwood Belleville Interim Dean of Students Thomas Trice. "We pulled weeds, trimmed bushes, raked leaves, and did pretty much anything else that needed to be done to get the homes of the seniors we assisted looking like they should. The difference that was made is amazing."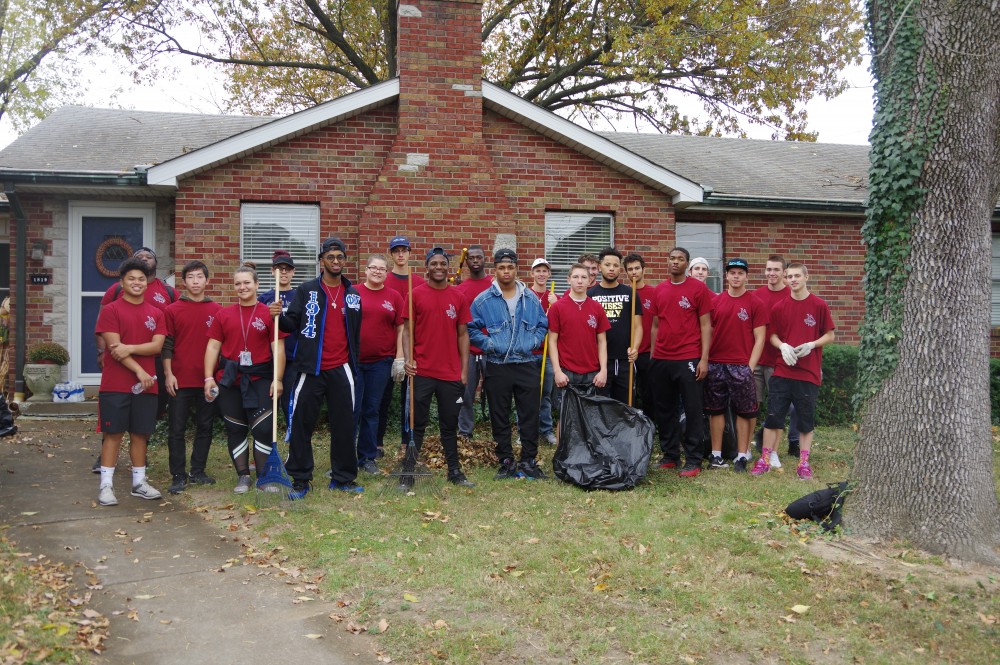 Students also donated their time Sunday doing work at Peterson's Pond, a former water detention basin that local educators and city of Belleville leaders are trying to turn into an outdoor classroom and native garden. There, Lindenwood students pulled up invasive species of plants and cleared away brush and other debris in effort to return the site, located near Signal Hill School, to its natural state.
Lynx in the Community is a service initiative created by Lindenwood Belleville to have a positive impact on metro-east neighborhoods. Lending a hand to seniors who needed a little assistance keeping up their property was a good place to start, according to Trice. The goal of the Student Development and Resource Center, which oversees the Lynx in the Community initiative, is to conduct two campus-wide service events each year.
"It was great to see these students give something back to the community," Trice said. "It was even better to see them doing so with smiles on their faces. This brings us together as a campus community relative to giving back to the community in which we are part."
Trice thanked Belleville Alderwoman Jane Pusa for helping to identify seniors who could use a hand with straightening out their lawns.