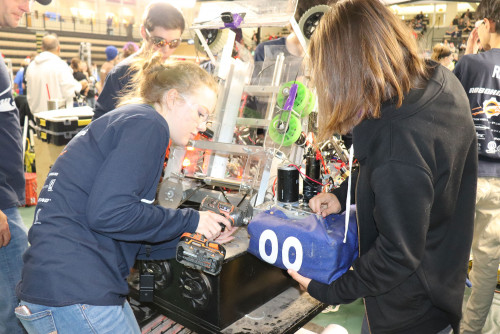 For the second year in a row, Lindenwood University is serving as a sponsor of FIRST Robotics, hosting a regional event to kick off the 2019 season 9 a.m. Saturday, Jan. 5.
Approximately 1,000 high school students, mentors, and parents representing 44 teams from central and eastern Missouri and southern Illinois will gather at the university's J. Scheidegger Center for the Arts on the St. Charles campus to view a live feed announcing the challenge for the 2019 FIRST Robotics competition, scheduled for this spring in St. Louis. For the competition, student teams must compete against one another in a specific set of challenges with a robot they designed and built.
The teams each receive a kit of parts with which they will begin designing and building industrial-grade robots to play the game described in the kick-off. In the competition, the teams will compete with and against others from the region and will have the opportunity to move on to the national and international levels.
"Lindenwood is very excited to host the FIRST Robotics Kick-Off event," said Lindenwood University President Michael Shonrock. "This competition directly aligns with our strategic plan with its focus on science and technology."