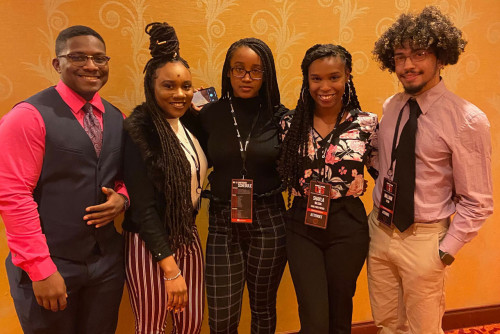 Four undergraduate students and one graduate student from Lindenwood University attended the Big XII Black Student Government Conference at the University of Oklahoma, Feb. 20-23.
The students were selected because of their involvement with the Lindenwood University Black Student Excellence and Enrichment Program (BSEE). The BSEE's mission is to increase retention and graduation rates of black students by promoting academic excellence and engagement. In fall 2019, there were 26 students in the Lindenwood program, and their average GPA was 3.12.
The Lindenwood students who attended the conference in Norman, Okla., were healthcare administration graduate student Cupresha Barnes, sociology and middle school social studies sophomore Robby Hamilton, sociology and psychology sophomore William Hern, fashion business and entrepreneurship sophomore CaJah Swinney, and sociology and social work junior Shayla Wilson.
Dr. Shane Williamson, associate vice president for student life & diversity and dean of students for Lindenwood, said the five students were chosen to attend the conference because of their high GPAs and leadership roles within BSEE. Williamson said the trip was funded from a $5,000 grant from the UPS Foundation.
Lindenwood's black freshmen and sophomore students are encouraged to join BSEE. The group is open to all freshmen and sophomore students who attend Lindenwood University regardless of their race, ethnicity, or national origin.
This was the 43rd annual Big XII Black Student Government Conference. This year's theme was "Generation Us: Unifying Blackness Through Social Change."
The genesis of the conference came in 1977, when black students from Big Eight Conference schools came together to recognize that they were facing similar problems at their respective colleges. The next year, University of Missouri students formally created the Big Eight Council and Conference on Black Student Government. In 1997, the Big Eight Council on Black Student Government officially changed its name to the Big XII Council on Black Student Government with the inclusion of four schools from Texas. A different member of the council hosts the conference each year.