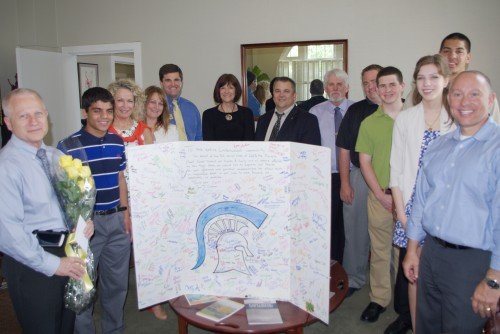 On Wednesday, June 5, Dr. James D. Evans, PhD, received a contingent from the Francis Howell School District, which came to his office to thank the university for hosting commencement ceremonies the prior Sunday. The ceremonies for all three Francis Howell High Schools had been scheduled for Saturday, June 1, at the St. Charles County Family Arena but were cancelled less than 24 hours before when the arena was damaged by severe weather on Friday, May 31.
During the presentation Wednesday, Dr. Pam Sloan, superintendent of the Francis Howell School District, recounted the story, which included a flurry of phone calls and, ultimately, the ceremonies being held outdoors at Lindenwood's Harlen C. Hunter Stadium throughout the day on Sunday, June 2. Because of the ample seating available at the stadium, students were not required to restrict the number of guests at their ceremonies.
Recent graduates Adam Brooks, Derek Puni, Jeremy Karp, and Amanda Pelletier spoke briefly at the presentation, expressing how much it meant to them, not only to have the ceremonies in the first place, but to have them in front of all their families and friends.
Principals Davie Wedlock, from Francis Howell High School; Darlene Jones, from Francis Howell North; and Sonny Arnel, from Francis Howell Central, also attended the presentation and gave Evans some tokens of appreciation, including a large card signed by the graduates. Also recognized were Tom Wagganer, Scott Queen, and Mike Wall, who managed the facilities and audio for the ceremonies. Lindenwood's grounds personnel were also recognized for readying the area on short notice.
Pictured: (from left) Lindenwood President Dr. James D. Evans; Francis Howell Central graduate Jeremy Karp; Dr. Pam Sloan, Francis Howell district superintendent; Dr. Cynthia Bice, Francis Howell School Board member and dean of education at Lindenwood; Dr. David Wedlock, Francis Howell High School principal; Dr. Darlene Jones, Francis Howell North High School principal; Scott Queen, LU associate director of athletics and director of marketing and communications; Mike Wall, dean of communications; Tom Wagganer, LU director of game and event operations; Francis Howell Central graduates Adam Brooks, Amanda Pelletier, and Derek Puni; and Dr. Sonny Arnel, Francis Howell Central High School principal.