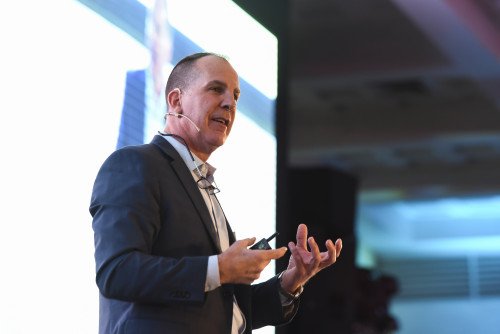 Gary Schoeniger, founder and CEO of the Entrepreneurial Learning Initiative, will speak on Tuesday, April 16, from noon to 1 p.m. in Harmon Hall's Dunseth Auditorium as he speaks on redefining the entrepreneurial mindset and bringing his brand of "mindset shift" into classrooms, businesses, and communities.
As an author and entrepreneur, Schoeniger has emerged as an internationally recognized thought leader in the field of entrepreneurial mindset education and training. He is the co-author of Who Owns the Ice House? Eight Life Lessons from an Unlikely Entrepreneur, an international bestseller described as "required reading for humanity" (co-written with Clifton L. Taulbert).
During the free session, hosted by the Duree Center for Entrepreneurship in the university's Hammond Institute for Free Enterprise, Schoeniger will combine real-world examples of everyday "unlikely" entrepreneurs with research in social and behavioral science to reveal the underlying logic and environment that can empower ordinary people to accomplish extraordinary things.

Drawing from decades of research, Schoeniger led the design and development of the original Ice House Entrepreneurship Program through a partnership with the Ewing Marion Kauffman Foundation. He has presented around the world, including the Global Entrepreneurship Congress, European Commission, U.S. State Department, and Colombian Ministry of Education.

Schoeniger currently serves as a board member for the Hershey Montessori School, a member of the Dean's Council at Purdue Polytechnic Institute, and an advisory council member for Tecnologico de Monterrey's Tec21 model to produce graduates with an entrepreneurial spirit and humanistic outlook.
The session is open to all, and advance registration is not required. For more information, please visit online at Hammond.Institute, see the event flier, or call (636) 627-2915.