Missouri Governor Jay Nixon was the keynote speaker at a luncheon meeting of the new Bates-Krekel Society on Tuesday, March 29, in the Anheuser-Busch Leadership Room of Lindenwood University's Spellmann Center. The event was co-sponsored by Lindenwood University.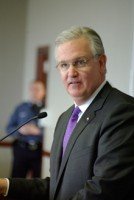 True to the spirit of the society, which consists of Democrats and Republicans and seeks to foster constructive debate and dialogue between the parties, Nixon made a passionate plea for a greater level of cooperation and dialogue in politics, stating that the current rancorous political atmosphere in Missouri and the country is an impediment to legislative progress. He stressed that Democrats and Republicans have many common goals and ideals and should be able to find common ground on most issues.
The capacity crowd included several elected officials from St. Charles County and the surrounding area, as well as area business and community leaders from throughout the region. The Bates-Krekel Society was founded by St. Charles County Executive Steve Ehlmann, a Republican, and Circuit Judge Ted House, a Democrat, in an effort to foster rational and civil debate on divisive issues and common cause on others.
The society is named for Barton Bates and Arnold Krekel, two Civil War-era politicians from St. Charles who put aside their opposing political viewpoints and left their parties to support the election of Abraham Lincoln to preserve the Union during the rebellion.
"The careers of Bates and Krekel are evidence that people of different beliefs and political loyalties can work together on some very important issues without compromising their principles on others," said Ehlmann and House in a letter describing the society.
A second luncheon, with Missouri Lieutenant Governor Peter Kinder as the speaker, is planned for the fall. Typically, the group will sponsor two such meetings a year, in the spring and fall. Membership costs $25 annually. For more information about the Bates-Krekel Society, contact Ehlmann or House.