Lindenwood University President Michael D. Shonrock has selected Dan Grigg as Vice President for Development. Grigg starts his new position on February 1.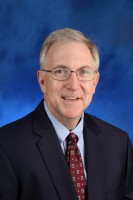 Shonrock said he is looking forward to Grigg's arrival in St. Charles and his leadership on Lindenwood's fundraising team. Grigg will begin work right away on Lindenwood's "Doors to the Future" campaign, raising money for the university's Academic Resources Center.
Grigg said he was excited to return to the Midwest after spending the last 20 years in Texas.
"This campus is so beautiful," Grigg said. "I can only imagine the feeling alumni have when they return for a visit. Lindenwood is a place to be proud of."
For 12 years, Grigg worked in development at the University of North Texas and later at Texas Christian University. Most recently, he spent five years as executive director of advancement at the No. 1 private school in Texas -- Liberty Christian School.
Grigg replaces retiring interim Vice President for Development Charlsie Floyd, who spent 20 years in development at Lindenwood University. Floyd was on the leadership team evaluating candidates for the position and making recommendations to Shonrock.
"Dan is an excellent fit with the Lindenwood family,' said Floyd. "He has very good training and his strategies and practices align well with how we do things. Bottom line, we think he is someone who will be able to lead this team to new heights."
Grigg has a BS in business administration from Daniels College of Business at the University of Denver.