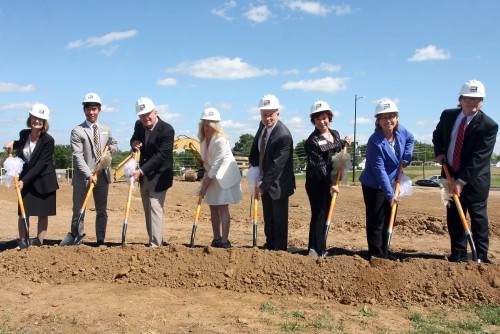 On Thursday, May 21, Lindenwood University held a groundbreaking ceremony for its planned $21 million Library and Academic Resources Center. The three-story 100,000-square-foot facility will combine traditional library functions with a host of other student services and is scheduled to open in late 2016.
Speaking at the ceremony, Dean of Library Services Elizabeth MacDonald, Provost Jann Weitzel, and President James D. Evans all referred to the new building as the hub or heart of the campus, a technologically advanced information center, open 24 hours a day, that will be suited to the needs of students needing help with their studies and students involved in serious research at all levels of academia.
It will include the Mary Ambler Archives, classrooms, and work spaces for adjunct instructors, as well as a variety of student services, including the Writing Center, Student and Academic Support Services (SASS), Career Services, English as a Second Language, International Students and Scholars, and Lindenwood Online, as well as coffee shop that will be open 24 hours a day.
MacDonald said the proposal for the building was years in the making and the result of the efforts of numerous people from the various centers that will be located in the building. It will replace the 36,000-square-foot Margaret Leggat Butler Library, which was built in 1929. Other speakers at the event included Chaplain Timothy Butler; Samuel Rudloff, president of the Lindenwood Student Government Association; and Board of Directors Member Ron Gorgen, who is chair of the fundraising campaign for the project.
"I get asked a lot if in a digital age libraries are really relevant," MacDonald said. "…Think about the collaboration and creativity behind the development of the vision of what this building will be. It cannot be Googled. It cannot be digitized. It cannot be 3D printed or stored in the cloud. Libraries create access to information and resources and spaces and technology and people that inspire educational creativity that results in something tangible and usable that represents the innovation and potential of the diverse communities that we serve, and it is truly wonderful."