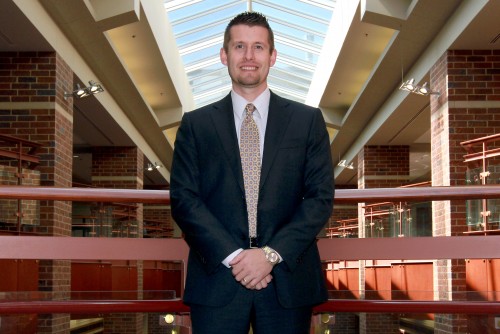 Dr. Ryan Guffey, who has served as Lindenwood University's assistant vice president for student development and special projects for the last seven years, will be promoted to the position of vice president for student development and global affairs, effective July 1. The post was formerly held by Dr. John Oldani, who retired at the end of May after serving in it for seven years.
Guffey holds a bachelor's degree and an MBA from Lindenwood, as well as a master's in international relations from Queen's University in Belfast, Northern Ireland, and a PhD in higher education administration and leadership from Saint Louis University. An employee of Lindenwood since 2003, Guffey has served as associate dean of campus life, director of international day and adult and evening admission, co-director for the Center for International and Global Studies, associate editor for the Journal of International and Global Studies, chair of the International Relations and Chinese Studies departments, and assistant professor for international relations, in addition to his assistant vice president role. During his time as assistant vice president, Guffey joined the handful of Lindenwood faculty selected to participate in the Fulbright Scholar Program. He was awarded a scholar and consultant fellowship to Chulalongkorn University in Bangkok, Thailand, which is regularly a top 200 university in the world.
"Dr. Guffey has been very valuable to me over the past seven years and to Lindenwood for an even longer time," said Oldani. "I am confident that I am leaving Student Development in very good hands, and I expect things to go well under his dexterous leadership."
President James D. Evans was equally enthusiastic about the appointment.
"Considering Ryan's vast administrative and international experience, we have every reason to expect both Student Development and our international programs to continue to advance with him at the helm," he said.
In his new role, Guffey will oversee Career Development, the Chaplin's Office, the Dean of Students Office, Freshman Experience, the Health Center, Housing, Greek Life, International Students & Scholars, Intramurals, Security and Public Safety, Student Life and Leadership, Student Life Sports, Veteran Affairs, and Work and Learn, in addition to the university's international affairs.