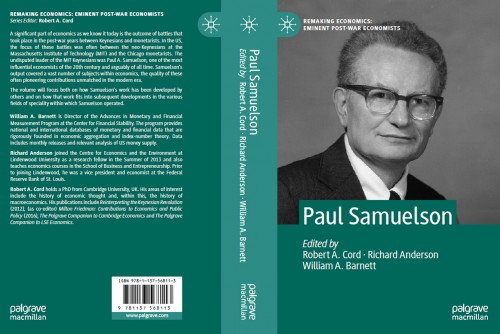 The work and career of the late Paul Samuelson, long-time MIT professor of economics is reviewed in a recent volume of 22 papers co-edited by Hammond Institute Senior Research fellow Richard G. Anderson (Ph.D, MIT, 1980); William A. Barnett, Oswald Distinguished Professor of Macroeconomics at the University of Kansas (B.S., MIT, 1963); and Robert A. Cord in London, formerly of Canterbury University (UK), published by Palgrave Macmillan.
In 1970, Samuelson was the first American to be awarded the Sveriges Riksbank Prize in Economic Sciences in Memory of Alfred Nobel (often referred to as the Nobel Memorial Prize in Economic Science). He died in 2009.
Although two earlier volumes were published on the occasions of Samuelson's 65th and 90th birthdays, this is the first posthumous volume. In addition to an introduction by Anderson, the volume includes papers by University of Pennsylvania finance professor Jeremy Siegel (Ph.D., MIT, 1971) and former MIT professor Gregory Chow (1955-1959). Anderson, retired from the Federal Reserve Bank of St. Louis, also is visiting research professor of economics, University of Missouri--Kansas City.