Emmanuel Forbes is a familiar face to students and staff members at Lindenwood University-Belleville, where he's known simply as "Manny."
He stood in the Alice E. Ackermann Welcome Center, dutifully attending a ceremony to announce the winner of the 2017 campus employee of the year award. Forbes never suspected that the honor was going to be presented to him.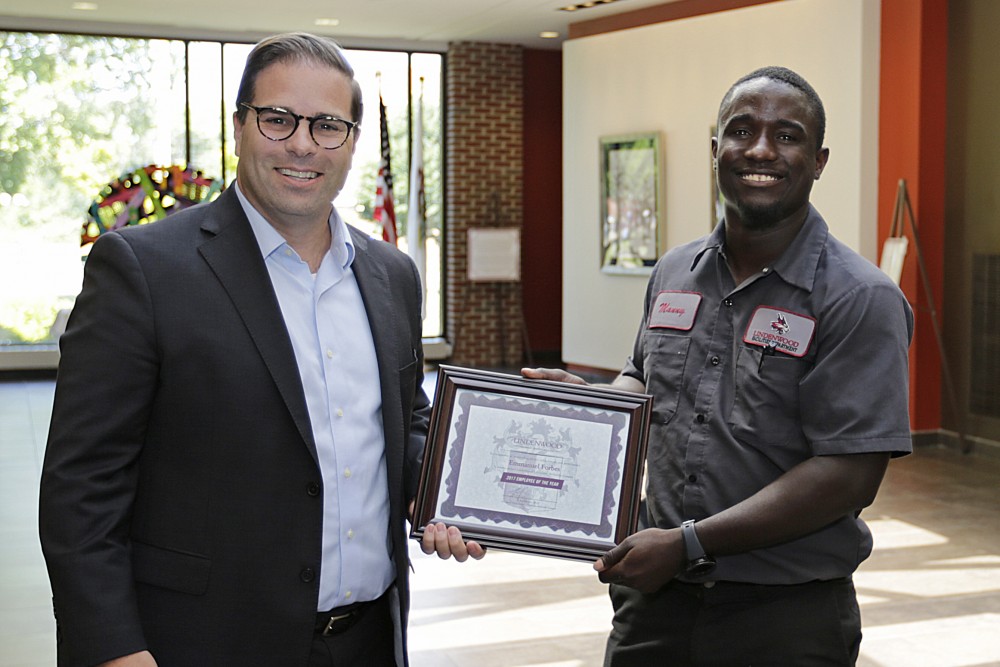 "He always has a smile and he's always looking out for the students," Lindenwood Belleville Campus President Brett Barger said. "He's really emblematic of the culture that we have here. He seems to be involved in everything."
In addition to his duties working as the lead in the campus Facilities Department, Forbes is always willing to put in his personal time to help students, Barger said. He organizes a popular student soccer tournament, and, when he learned the campus soccer club couldn't practice in the gym without a staff member present, he volunteered to be there as long as students wanted so the workouts could go on.
Forbes never expects anything in return. As Barger made the employee of the year announcement, Forbes did a double-take, paused for a moment to process what he just heard, and exclaimed, "me?"
He said he was just as grateful as he was surprised.
"I always want to do whatever I can to help anybody out, to help the students," Forbes said. "This is awesome!"
Originally from Colón, Panama, Forbes came to the United States for the first time in 2007 and in 2012 became a graduate student at Lindenwood Belleville.
He holds a bachelor's degree in business administration and a master's degree in human resource management. Forbes started his career at Lindenwood as a graduate assistant in the Facilities Department in 2012. He current serves as the Facilities Department lead.
"Lindenwood Belleville is more than just a place of work for me," said Forbes. "I came here as a reckless young boy, and I have grown to become a not-so-reckless man. Moving to Belleville and working here has probably been the greatest decision of my life."