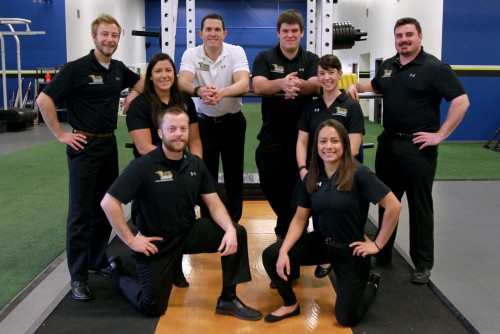 Lindenwood University exercise science students and faculty will be busy this summer traveling to three major conferences to discuss their latest discoveries.
"Conferences are a good way for us to share our latest findings and provide a really exciting way for a student to present their work," said Dr. Chad Kerksick, assistant professor of exercise science and program director of the Human Performance division. "It also gives us the chance to visit with other colleagues and plan future projects. It's good exposure for both the students and the staff."
First up is the American College of Sports Medicine, held May 30 through June 3 in Denver, Colo. It's the largest professional organization devoted to the development of exercise science and sports medicine, according to Kerksick, who is the organization's Missouri representative. A number of faculty members will be attending as well, including Assistant Professor of Exercise Science Dr. Scott Richmond, president of the Central States Region for ACSM. Human performance graduate student Paula Costa will give a poster presentation on research she did on Lindenwood University's synchronized swimming team.
"The poster presentations are delivered in a large room with common themed posters presented next to each other at the same time," said Kerksick. "A student prepares a large poster with different sections that detail a different portion of the project, from beginning ideas to data collected to going over the results and what they mean. The research posters are on display for all people attending the conference, who will look at it, review it, critique it, and ask the student questions. It's an efficient way to get our latest scientific findings out to our colleagues."
The next conference will be held by the International Society of Sports Nutrition June 22-23 in Phoenix, Ariz.
At that conference, graduate student Charles Smith will do a poster presentation reviewing a study just completed on the Lindenwood rugby team regarding the use of a dietary supplement called beta-alanine to determine any potential impact it may have on improving exercise performance. Beta-alanine is an amino acid that has been shown to help improve various types of exercise performance, particularly those forms of exercise that are very high in intensity.
Later in the summer, Lindenwood will be well represented at the National Strength and Conditioning Association National Conference on July 12 -15 in Las Vegas, Nev.
"Three students are making poster presentations out there," Kerksick said, "and we have another student who will be doing an oral presentation."
Charles Smith will present another portion of the findings from his study with the rugby team. Richie Stecker will explain a project in which he examined the force and power production produced by doing four different types of pushups. Finally, Paula Costa will detail data she collected on the bone density, muscle mass status and resting metabolic rates on the synchronized swimming team.
Kerksick will also discuss the results of some of his research at the Las Vegas conference with a presentation he is giving titled, "Trials and Tribulations of Fat Loss."
"It's exciting, as we are going to have a pretty good presence at that conference," said Kerksick, who added that the conferences are rewarding for him and other faculty members who enjoy seeing students get opportunities to discuss their research, view other studies, and interact with other professionals in areas related to exercise science.