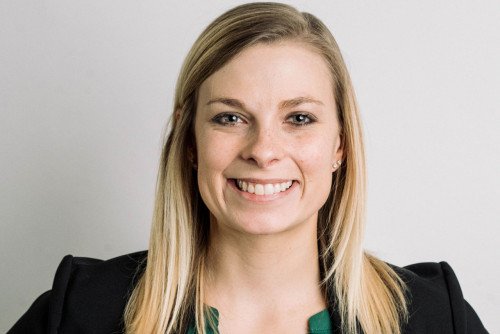 Rachael Heuermann has been named Lindenwood University's new director of alumni relations. Previously a member of the university's Student Involvement staff, she moves to the Lindenwood Advancement and Communications staff in her new role.
Heuermann has been with Lindenwood University since 2018, prior to which she worked for three years at Washington University of St. Louis in alumni initiatives, event planning, database management, design of matching programs for prospective students, and student counseling. A first-generation college student, she holds a bachelor's degree in public relations and advertising from DePaul University in Chicago and a master's degree in higher education administration from Lindenwood.
She said her immediate goals are to begin connecting with alumni, develop a schedule of alumni events, formulate a communications strategy, establish a graduation tradition, and work on affinity groups within each school. Long-term, she said she hopes to establish a network of alumni chapters nationwide, develop a mentorship program for alumni and students, and establish an online alumni directory.
"I most look forward to meeting all the alumni and working with them to create big changes for them, the university, and our students," Heuermann said.
Kate O'Neal, assistant vice president for development and alumni relations, said she is pleased to have Heuermann on the Advancement and Communications staff and looks forward to her contributions to alumni efforts.
"I am thrilled to have Rachael as part of the Advancement and Communications team," O'Neal said. "I am so excited for the opportunities Rachael will have reaching out to alumni near and far. Rachael will bring a great ambassadorship to the role as her love of Lindenwood shines brightly." Heuermann can be reached at 636-949-4964 or rheuermann@lindenwood.edu.