A 10-year-long passion project for Lindenwood University-Belleville Assistant Professor of History Jennifer Welsh has finally been completed in the form of her first published book.
Now that "The Cult of St. Anne in Medieval and Early Modern Europe" has been released, Welsh said she hopes to get to work on a second book. She just hopes the next literary work she's planning doesn't take nearly as long to finish.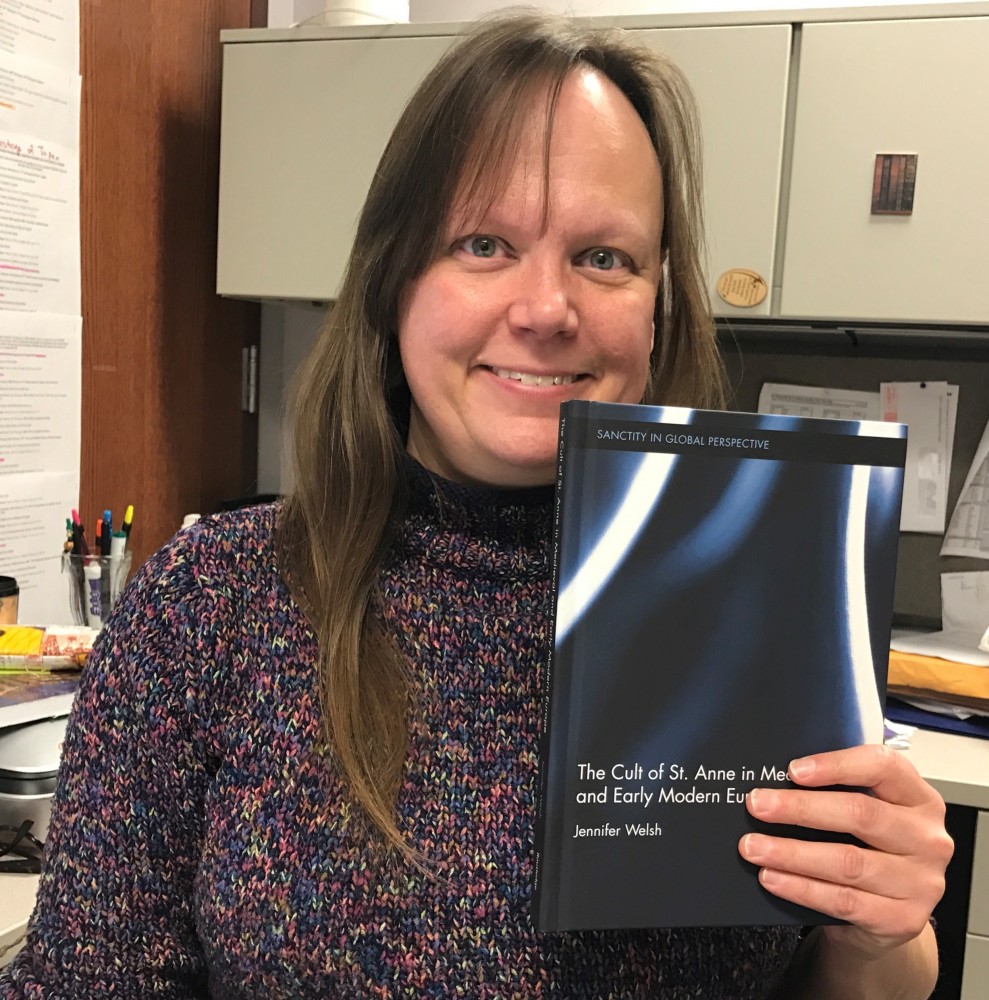 Welsh said the idea for the tome, available now in both hardback and e-book versions, was kindled when she a put together a couple of research papers and, ultimately, wrote her dissertation on the subject. She had done so much research on the life and legend of St. Anne, Welsh said she wanted to share the results.
"St. Anne is an extremely fascinating figure as the mother of the Virgin Mary and grandmother of Jesus Christ," Welsh said. "But she's not in the scripture so, historically, people have been able to make her play different roles." What's emerged over time is a variety of different stories about St. Anne. Some portray her as a powerful matriarch who carefully orchestrates the actions of her family while others depict her as a humble housewife and mother. In some descriptions Anne had one daughter, Mary, after praying to God for a child. In others, Anne was said to have been married three times and to have had one daughter from each of the unions.
"Her legend grew throughout the years," Welsh said. "Then the Reformations Martin Luther came along and everything changed."
The first references to St. Anne in Christian literature don't come until the New Testament apocrypha are written in about the year 150 A.D. Her story becomes more prominent in eastern Christianity in the sixth century and then in the Latin church in the 12th century. Anne, known in Arabic as Hannah, is also prominent in Islam, recognized in the Qur'an as the mother of Mary.
Welsh said detective work to determine which depiction of St. Anne is the most accurate is tough because the facts have been buried by the passing of several hundred years of time.
"What I am hoping is that, while we might never get concrete answers about her, if we look at the way St. Anne is portrayed over the years and what people have emphasized about her it might tell us something about our history," said Welsh.
"The Cult of St. Anne in Medieval and Early Modern Europe" is published by Routlidge and is currently available through Amazon.com.