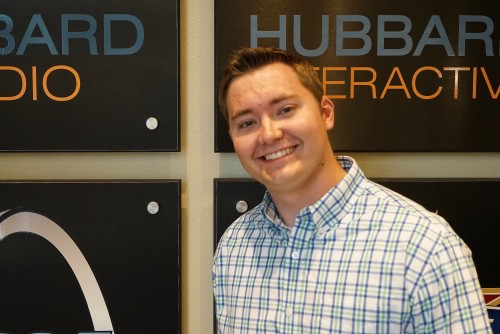 When Ben Holtmeyer ('16) enrolled at Lindenwood University in August 2012, his emphasis was in broadcasting. However, after adding an emphasis in media management and sales as a senior, Holtmeyer would take a course that changed his career direction.
Holtmeyer, who graduated with his bachelor's in mass communications this spring, took Buying and Selling Media as part of his media management and sales emphasis, and the class lit a fire in Holtmeyer.
"I could have graduated a semester early, but I liked college and I wanted to learn more and to pick up skills that would make me more marketable," Holtmeyer said. "Just a couple of sessions of the Buying and Selling Media class and I was really pumped about that side of the business."
Holtmeyer was already working in the broadcasting industry and had experience on the sales side. Starting September his freshman year, Holtmeyer worked part-time as a member of Hubbard Broadcasting's "Street Team," a group of brand ambassadors who would set up radio broadcasting equipment at remote sites and aid in raising excitement for special events. After taking the media sales class, Holtmeyer approached his boss at Hubbard, Kim Grant, about getting into media sales.
"I'd been waiting for him to make the switch to the sales side," said Grant, Hubbard's director of digital brand strategy.
Grant set up weekly meetings with Holtmeyer to give him more experience in the field of media sales, and when a position opened in Grant's department, she encouraged Holtmeyer to apply. On May 10, four days before his Lindenwood commencement, Holtmeyer signed on as a full-time digital strategist for Hubbard. His first day was the following Monday.
"The most appealing part was that I would have a career path in the works," Holtmeyer said. "It was such a relief that I would start a career job two days after graduation."
Holtmeyer will market Hubbard radio stations 92.3 WIL, 106.5 The Arch, and 101 ESPN, plus a digital agency called 2060 Digital using social media, various websites, promotions, and data analyzation. Growing up, Holtmeyer had many career ambitions, including meteorology, architecture, and drumming (he had lessons since age 6). One day, while he was playing MVP Baseball 2005 on his PlayStation, Holtmeyer's father suggested a different career path.
"It was funny," Holtmeyer said. "I started doing play-by-play to my own baseball games on my PlayStation, and my dad said, 'Have you ever thought about doing something like that before?'"
Holtmeyer did commentary for basketball and other sports in high school before enrolling at Lindenwood with a broadcasting emphasis. He expected to do even more at the college level.
Holtmeyer broadcast sports, learned television news, drummed in the marching band and jazz band, worked as a DJ for 89.1 The Wood, marketed for Hubbard's "Street Team," and interned for the St. Louis Cardinals.
"I was able to do everything I wanted here and also progress at it," said Holtmeyer, a native of Washington, Mo. "That's what made Lindenwood special."