Olympic athlete Jackie Joyner-Kersee and the R. Whittington Foundation presented O'Fallon Township High School senior Taylor Harris with a scholarship to attend Lindenwood University-Belleville at a ceremony on campus April 1. Harris, of O'Fallon, Ill., will be a freshman at Lindenwood Belleville in fall 2015.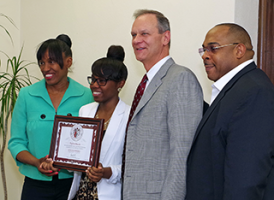 Harris has been involved in the Future Business Leaders of America, has served as a youth ambassador for the 100 Black Men of Metropolitan St. Louis Youth Leadership program, and sings in the OTHS choir.
"When we presented Taylor Harris with the Lindenwood scholarship in my name, it brought tears to my eyes to hear her speak so eloquently about her dream of wanting to attend Lindenwood University-Belleville," said Joyner-Kersee. "It is always a blessing to bless others with a gift that will ultimately change that person's life."
This is the first year for the Jackie Joyner-Kersee Scholarship at Lindenwood University. It is open to all incoming first-year students who meet the university's requirements for admission and demonstrate academic success, leadership, and financial need. Lindenwood is awarding two full scholarships (including tuition, room, and board), one to a student on the St. Charles campus and another to a student on the Belleville campus.
"Lindenwood University-Belleville is delighted to partner with Jackie Joyner-Kersee and the R. Whittington Foundation to offer this unique scholarship opportunity for Lindenwood students," said President Jerry Bladdick. "Taylor truly exemplifies the qualities and achievements that the Jackie Joyner-Kersee Scholarship seeks to honor, and we are thrilled to welcome her to campus in the fall."