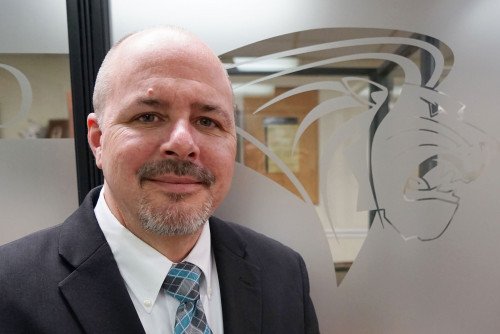 Reflecting an increased focus on Lindenwood University's online degree programs, Dr. Joe Alsobrook, former dean of the School of Arts, Media, and Communications, has been named dean of online programs.
Alsobrook has been in education since 1988 and has been with Lindenwood since 2004. Alsobrook was the first dean of the School of Arts, Media, and Communications, which was created from the combination of the former schools of Communications and Fine and Performing Arts, prior to which Alsobrook served as dean of the latter. Dr. Jason Lively, who has most recently served as associate dean of arts, media, and communications, will become dean of the school.
Alsobrook has received multiple awards for mentorship, scholarship, and impact on student success and is certified by the National Board for Professional Teaching Standards. He has published three textbooks, has spoken throughout the United States, and has extensive experience developing and teaching online courses. In August, he will present a session on course design at the 35th Annual Distance Teaching and Learning Conference in Madison, Wis.
"I look forward to working with faculty and staff across the Lindenwood system on our online offerings and enrollment," Alsobrook said. "Although I will miss all of my colleagues in AMC, I am most confident the school is destined for a great future under Dr. Lively's leadership."
Alsobrook and his wife, Connie, live in Marthasville, Mo., and have three adult children: Jordan, Micah, and Michelle.