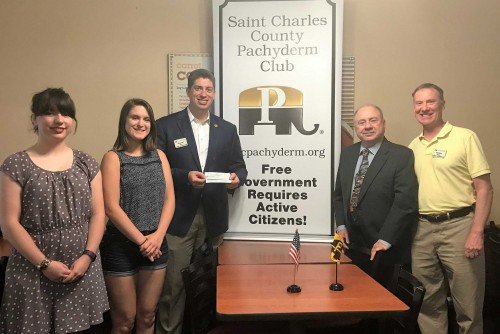 Kaitlin Trimble and Lexi Nephew have been named 2017 recipients of Lindenwood University's 2017 Pachyderm Scholarship, which is presented in cooperation with the St. Charles Country Pachyderm Club. The awards were announced at the club's meeting on June 9 at St. Charles' Golden Corral Restaurant.
Both 2017 graduates, Trimble is from Lutheran St. Charles High School and Nephew is from Timberland Wentzville High School. In high school, Trimble participated in orchestra, concert choir, and theatre and was active in athletics, including cheerleading and track and field. At Lindenwood, she intends to minor in music and is currently undecided on a major. Nephew participated in track and field, marching band, and concert band in school and also worked as a teacher's assistant. She is also involved in BMX racing and intends to major in criminal justice and psychology at Lindenwood.
The scholarship, awarded annually, is for $1,000 and is renewable.
Photo cutline: (from left) Scholarship recipients Kaitlin Trimble and Lexi Nephew, State Senator Bill Eigel, Pachyderm Scholarship Chairman and Founder Mike Hazelbaker, and St. Charles County Pachyderm Club President Marty Mares.