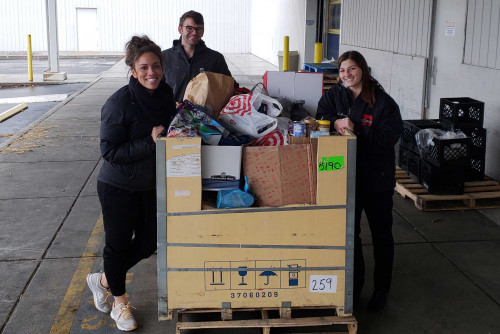 LindenWell, the Lindenwood University employee program that promotes wellness and opportunities for healthy living, coordinated a food drive with St. Louis Area Foodbank, collecting nearly 1,300 pounds of food.
The food drive, held between Nov. 12 and Nov. 30 and delivered Dec. 6, was organized by Mariah Gove (Human Resources) and Whitley Huxhold (School of Health Sciences) and collected enough food to provide 1,046 meals to St. Louis area citizens in need. Employees Josh Elliott and Chelsea Eicholz assisted with the packaging and delivering of the food items.
"Whitley and I are overjoyed with the camaraderie and the donations brought from the various people in different departments," Gove said. "Each person that came in with a donation came with a huge smile on their face and such a positive attitude. Some individuals were even rounding up their students to donate as well. We are proud of the people of the university for coming together to lend a hand for those in need."
Photo cutline:
From left: Lindenwood employee Whitley Huxhold, St. Louis Area Foodbank representative Will Beshore, and Lindenwood employee Mariah Gove with the LindenWell food donation.