Lindenwood University announces the winner of its annual St. Charles Community College Student of the Year scholarship, James (Jamie) Cassidy, of O'Fallon, Mo.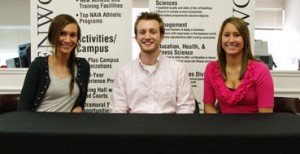 Cassidy, who graduated from Fort Zumwalt North High School before starting at St. Charles Community College, will study elementary education at Lindenwood. The scholarship, which seeks to recognize an outstanding SCC transfer student, is for $4,000 a year for commuter students or $8,600 a year for residential students. It is part of the university's Million Dollar Character Scholarship program, which distributes more than $1 million annually to students affiliated with a variety of organizations in the region.
This year, there are two runners up, Tracy Bellm and Erica Easton, who each receive other scholarship considerations. Bellm, of O'Fallon, Mo., graduated from Incarnate Word Academy and intends to study elementary education. Easton, from St. Charles, graduated from St. Charles West High School and intends to study business administration with a core in marketing.