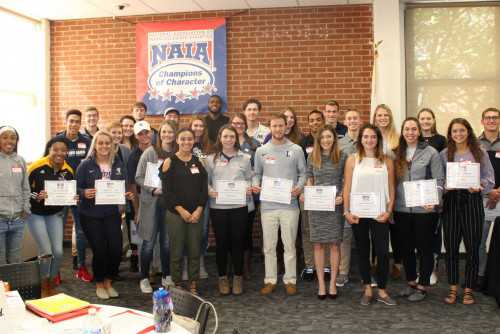 The Lindenwood University–Belleville Athletics Department hosted the 2018 American Midwest Conference (AMC) Champions of Character Summit recently with various student-athletes from the AMC conference participating.
Lindenwood Associate Athletic Director Annie Reis, along with the athletics staff, worked for several weeks with the AMC to plan this event.
"The summit was an absolutely tremendous event," AMC Commissioner Will Wolper said. "Character, character development, and leadership are such vital parts of life, beyond the playing field, that programs like the summit are important experiences to provide our student-athletes. Annie Reis and the staff at Lindenwood Belleville did a tremendous job planning and implementing the program."
The summit consisted of AMC Commissioner Will Wolper, Freed-Hardeman University representative Jonathan Estes, Lindenwood Belleville Athletic Director Ryan Kaiser, and nearly 50 student representatives, explaining the importance of the five core values of Champions of Character and what they mean for collegiate student-athletes. The five core values are integrity, respect, responsibility, sportsmanship, and student leadership.
Through the Champions of Character mission, students learn to understand how the values play out in both practice and competition. Coaches are taught how to intentionally define, model, shape, and reinforce the values through their coaching and mentoring. Parents learn how their behavior is key to supporting their athletes.
The second part of the summit consisted of a student-athlete question-and-answer session, followed by small group roundtable discussions.
"We are very pleased with the overall success of the Champions of Character summit," Lindenwood Athletic Director Ryan Kaiser said. "I appreciate the efforts and leadership from Annie Reis and the rest of our staff that made this event a very successful event. We hope that this program continues with the conference moving forward."
Kaiser said Lindenwood was excited to have the opportunity to host in conjunction with the AMC and bring more attention to educating student-athletes about the core values of the Champions of Character mission.