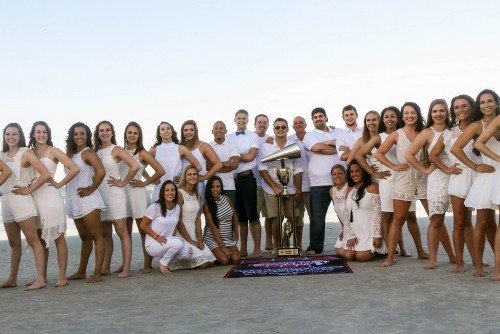 The Lindenwood Lions Cheerleading team won the Intermediate Small Coed Division II national title April 8 at the NCA/NDA Collegiate Cheer and Dance Championships in Daytona Beach, Fla. The team, with 18 cheerleaders, one mascot, and four alternates, is coached by Carrie Nichols.
Lindenwood received the top marks in five categories, including tumbling, pyramids, jumps, degree of difficulty, and overall effect, finishing with a score of 83.28 in the finals, 0.43 over second place Long Island University.
The Lions became one of seven teams to advance to the finals on Thursday by placing second in the first day of competition, just 0.07 behind Valdosta State University, ironically with the same 83.28 score that ultimately was enough to win in the finals.
It was the team's third national title overall and the second in a row. The team won the Large Coed Cheer Division II crown in 2015, its first championship in four years.
2016 NCA/NDA Collegiate Cheer and Dance
Championships Results

Finals
Intermediate Small Coed Division II

1 Lindenwood University 83.28
2 Long Island University 82.85
3 McKendree University 82.50
4 Valdosta State University 80.93
5 Gannon University 80.68
6 Newberry College 80.43
7 University of the Ozarks 79.30