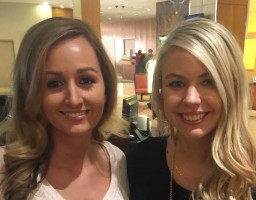 The Lindenwood University Collegiate DECA Chapter, through the Plaster School of Business & Entrepreneurship, recently won a leadership award for its dedication to DECA core values and principles of encouraging a well-rounded college experience for its members.
Savannah Bice and Carli Gogol each won the Academic Honor Award for their academic excellence, leadership, and involvement at Lindenwood while maintaining a cumulative GPA of 3.5 or higher.
DECA is an international association of students and teachers that prepares future entrepreneurs in careers in finance, hospitality, management, and marketing.
"Our DECA Team is made-up of some the most impressive young adults I have ever had the privilege to meet," said Craig Felzien, director of the Duree Center for Entrepreneurship and DECA advisor. "They are making a name for themselves and the team. In fact, several area high school DECA students have called me to say they are interested in Lindenwood because of the reputation of our DECA chapter."
Eight members of Lindenwood's DECA team competed n Washington, D.C., this week attending the International DECA Conference, earning nine awards. The awards ceremony was held the evening of Saturday, April 14 at the Crystal Gateway Marriott in Arlington, VA. More than 1,000 students from all 50 states and several countries participated in the 2018 International Competition.