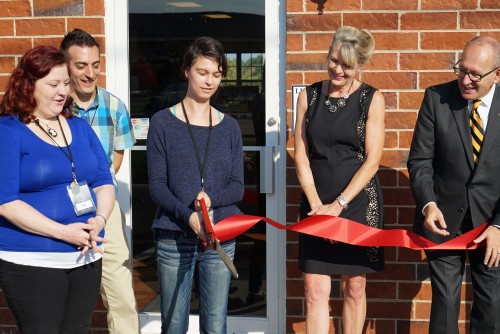 Lindenwood University formally opened the Barnes & Noble bookstore on its St. Charles campus with a ribbon-cutting ceremony on Sept. 14. Store patrons were also treated to refreshments, raffles, and a few giveaways.
"Lindenwood is like no other, and that is why Barnes & Noble is here," said Virginia Murphy, the bookstore manager. "We are thankful to Lindenwood for this partnership in creating a one-stop shopping experience for students."
The revamped bookstore features a refreshed store layout, new merchandise, a wide selection of Under Armour apparel, home décor, electronics, gift items, school supplies, and snacks. An entire section of the store, known as the Game Day wall, has everything fans need to support Lindenwood athletic teams.
The Barnes & Noble bookstore sells textbooks in partnership with the university. The store sells new and used books, and also rents new and used books, with 80 percent of the inventory rentable. A selection of bestselling fiction and nonfiction books will be offered for recreational reading as well.
"Anything the students need during their educational journey, we have here at the bookstore," said Cynthia Bader, Barnes & Noble's regional manager.
Students can order their textbooks online at shop.lindenwood.edu and pick them up, already assembled by staff, in the store. Students can also bring in their list of required textbooks and a staff member will gather the books in the store.
The store also sells digital books through the Yuzu app for mobile devices. Digital shoppers can also purchase Lindenwood merchandise and textbooks online and elect to have items shipped directly to their addresses or to Lindenwood's bookstore for pickup.