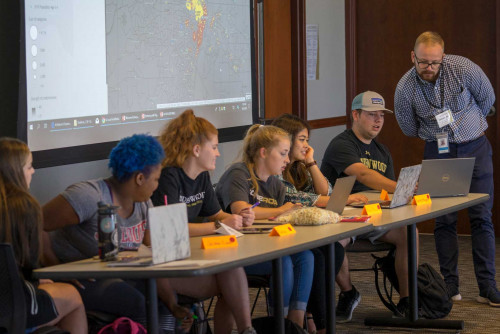 Lindenwood University hosted its sixth annual GIS day Tuesday, Oct. 1, from 9:30 a.m. to 2:30 p.m. in the Anheuser-Busch Leadership Room at the Spellmann Center. GIS Day, a national event, provided an opportunity to showcase the varied applications of Geographic Information Systems right here in the St. Louis region.
Fifteen exhibitors, including the Missouri Botanical Garden, the City of St. Charles, and ESRI, demonstrated to students the many ways GIS can be used to understand and analyze spatial patterns.
Lindenwood GIS Lab Manager Tara Vansell explained, "GIS day is possible due to the unfailing support of the St. Charles GIS User Group. This group of professionals has invested time and expertise on our students year after year providing a professional forum for students to present, network, and learn about the career field of GIS."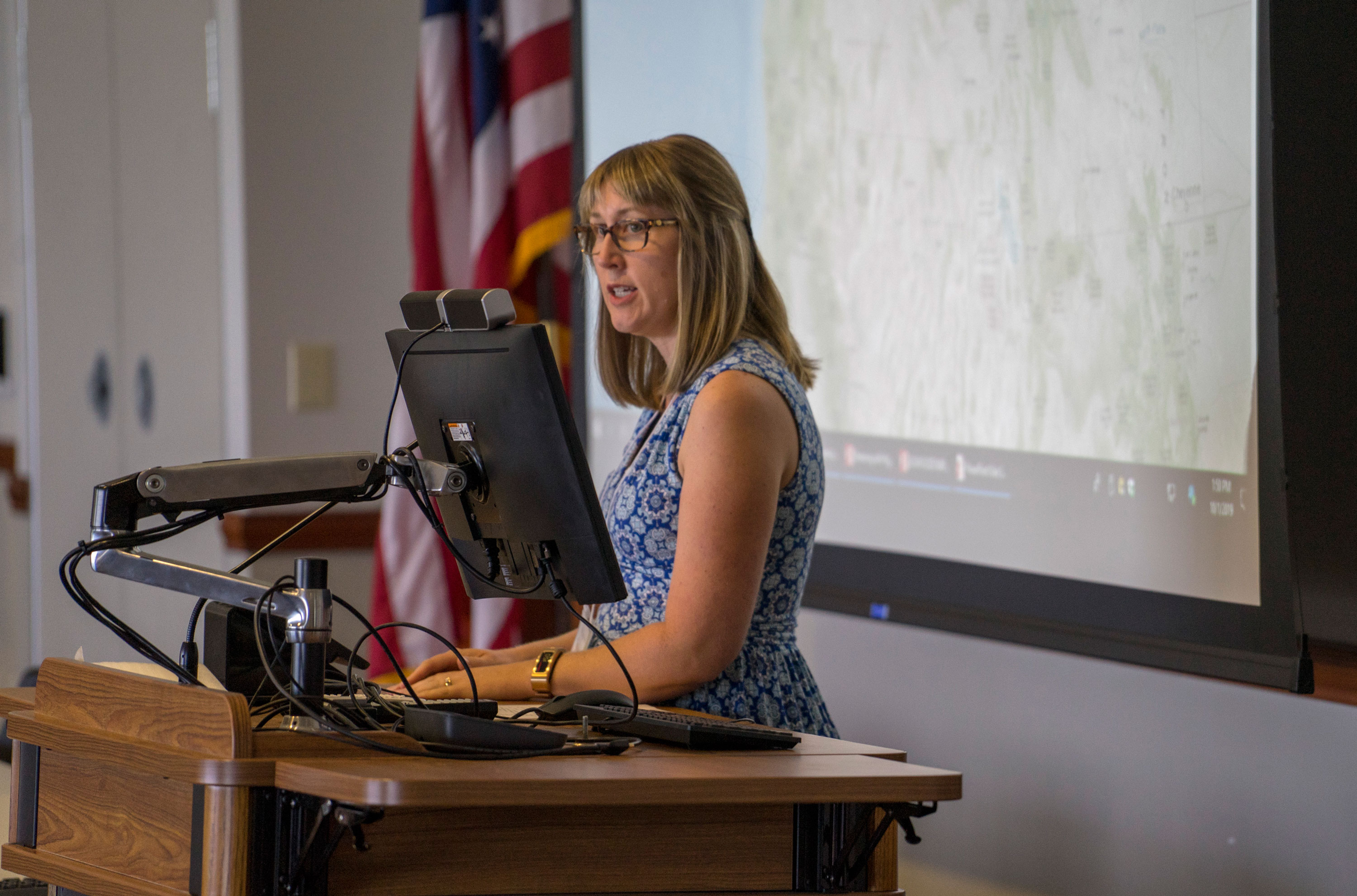 Additionally, Lindenwood students from the spring 2019 Advanced GIS course (GEO 300) presented their service-learning project that was done in collaboration with the St. Louis Foodbank, which used their work to influence decisions. Alumna Katie Wiesehan (2018) also returned to campus to present her graduate thesis work on the "Threatened Illinois Chorus Frog," demonstrating how GIS continues to shape and inform her research as a graduate student at SIU-E. Capping off the day were the Lightning Talks given by exhibitors.
Kayla Flamm from the Missouri Botanical Gardens showed how GIS applications are used to map and identify the many different species of plants at the garden. Jean Jeannotte from ESRI walked students through the company's ArcGIS Solutions homepage. Pinar Tukar, Planner with St. Charles County, presented how she is using GIS to model flood events and estimate potential damage. Tukar had very positive things to say about her participation.
"This is my second year of participating in GIS Day and I find it extremely useful to get together with the students and the industry professionals," Tukar said. "The most beneficial part is exchanging the ongoing project details and providing students the big picture of what they have been learning in class. My aim is to be able to communicate the importance of data-driven decision making vs intuition-based decision making and the opportunities that technology (GIS) has been providing for better decision making and collaboration. From the encounters yesterday, I can say that I am able to reach my aim."
"It was exciting to see all the community partners talking with Lindenwood students about how the real experiences they are developing in Lindenwood's GIS program can position them for success while making a meaningful difference in the community," said Dr. Travis McMaken, assistant dean of humanities.
Nicole Hawkins, of St. Louis Food Bank, expressed her satisfaction with the event and its organizers. "You guys are all fabulous," she said. "Thank you so much for the privilege of working with you."