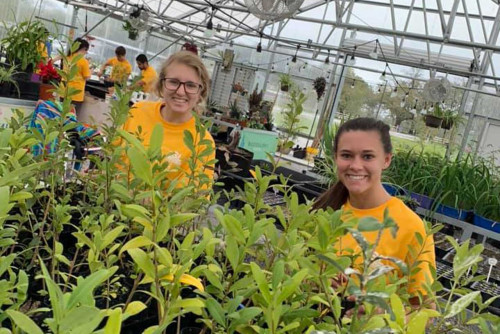 Nearly 20 students from Lindenwood University-Belleville opted for an alternative version of Spring Break and visited New Orleans, where they traded a week of their free time for volunteer work.
"I originally planned to travel with friends over the week of Spring Break, but when I learned about this opportunity to spend my time helping others, I couldn't pass that up," said Rodrigo Roxo of Rio de Janeiro, Brazil. "In my country, it's not as easy to volunteer or help others in this way. It's much more accessible here to be a part of something that helps the community, and I'm very happy I got to experience that. Being service-oriented is a very American concept."
During their week in Louisiana, the students explored a variety of service-oriented projects including sorting and recycling Mardi Gras beads, rehabilitating a house, working at a greenhouse and food bank, and working with elementary school children.
"It was incredible to see that after so many years following Hurricane Katrina, people still live in houses that aren't repaired," said Lochlainn Wood, from Portland, Ore. "Seeing those kinds of homes and having the opportunity to help that family definitely had an impact on me."
Service Spring Break, which is led by Student Life and Leadership, offers a rare learning experience for students that provides leadership-building and relationship-building skills while addressing community needs.
"When you stop to help others, it makes a difference," said Roxo. "Participating in service is how you make a difference, and it's how you show kindness. Even if one person steps up to help, it can make a difference."
This was the third Service Spring Break hosted by Lindenwood University-Belleville.
Photo Cutline: Nearly 20 Lindenwood University-Belleville students participated in Service Spring Break 2019. Pictured here are Breanna Adams and Gabby Lahey at Docville Farm in New Orleans, where they weeded and repotted Black Mangrove seedlings, which will later be planted in the community to prevent soil erosion. The students also sorted gourd seeds, which will be given to families in the local community who are experiencing a food crisis, so they can grow their own food.