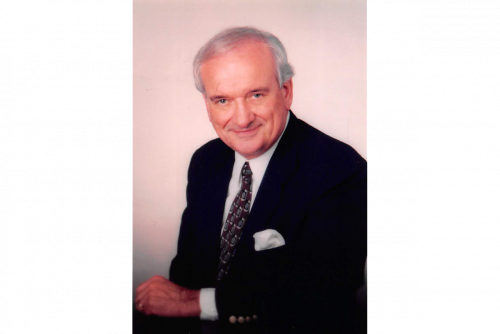 The Lindenwood University Community is mourning the passing of Joseph Mathews, who served 24 years on the university's Board of Trustees.
Mr. Mathews passed away on Sunday, July 21, at the age of 85. He served on the board from 1995 to 2019 and was awarded Lifetime Board Member status upon his retirement from the board. During his time on the board, he served on the Finance, Audit, and Board Governance committees. Mathews Hall, which was dedicated in 2006, is named for Mr. Mathews and his family.
Mr. Mathews owned Mathews & Associates, starting in 1985, prior to which he worked for Phoenix Life Insurance Company and Stix, Baer & Fuller and was an officer in the United States Army. He served as president of the St. Louis chapter of Chartered Life Underwriters and as director of St. Louis Life Underwriters and was inducted into the Phoenix Home Life Insurance Company Hall of Fame. Mr. Mathews was an honorary member of the Board of Directors for Lake of the Ozarks General Hospital, where he was chairman.
He was an Eagle Scout with gold, silver, and bronze palms. Besides serving on the Lindenwood Board of Trustees, Mathews was a board member at SSM Healthcare of Lake Saint Louis and a member of the US Bancorp Advisory Board.
"Joe was an outstanding board member, a generous donor, and most importantly a great friend," said Dr. J. Michael Conoyer, chairman of the Lindenwood University Board of Trustees.
For information about visitation and funeral arrangements, please visit baue.com/obit/joseph-g-mathews.