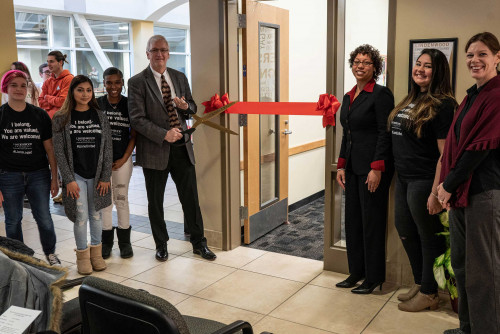 In front of a large crowd, Lindenwood University's new Center for Diversity & Inclusion (CDI) officially opened with a ribbon-cutting ceremony Tuesday afternoon, Jan. 21, at Evans Commons Room 3110 on the St. Charles, Mo., campus.
The event included remarks by various Lindenwood University officials, including Vice President for Enrollment Management and Student Engagement Terry Whittum, Associate Vice President for Student Life and Diversity Dr. Shane Williamson, and President John R. Porter.
Also included in the program was the presentation of the Martin Luther King, Jr. Service Awards by faculty member Dr. Melissa Elmes, of the university's Diversity, Equity, and Inclusion Task Force. Award winners included student Gabriela Rodriguez Trejos, staff member Jesus Lopez, and faculty member Dr. Heather Brown-Hudson.
"The mission of the Center for Diversity & Inclusion is to support Lindenwood University's core value of community and foster a welcoming culture by serving as a resource and liaison for students, staff, and faculty on issues of equity through advocacy, outreach, collaboration, training, and education," said Dr. Shane Williamson, associate vice president for student life and diversity and chief diversity officer. "The CDI is dedicated to enhancing the intersectional identities of first-generation, gender, international, LGBTQ+, and multicultural experiences on campus."
Four student speakers were included in the ceremony, including Rodgriguez Trejos, vice president for diversity, equity, and inclusion in the Lindenwood Student Government Association; Shayla Wilson, president of the Black Student Union; Leigh Manzer, of the Lindenwood Gender and Sexualities Alliance; and Guadalupe Medina, of Alpha Psi Lambda, a Latino student organization.
Jen Spellazza was announced as the coordinator for the center, which will execute, organize, and serve as a central hub for diversity, equity, and inclusion events and programs, including Safe Zone, Safe Zone 2.0, and Implicit Bias training, as well future training programs. The center is also home of the university's new Little Free Pantry, which provides food and personal care items to students in need.
"I like that you can walk into the room and see what diversity and inclusion is all about," Porter said in his remarks. "At Lindenwood, we want to reflect the community and the region we serve. Make sure you are a part of this and use it."