Lindenwood University President Michael D. Shonrock accepted an Above and Beyond Award from the Department of Defense on Friday, Nov. 9, prior to the university's second annual Veterans Day Lunch in the Spellmann Center's Anheuser-Busch Leadership Room.
The award, which was presented by Bob Schure, Missouri Awards Coordinator for the department's ESGR (Employer Support of the Guard of Reserve), recognizes the institution's accommodation of employees' deployments in U.S. armed service. This summer, Kara Schilli, director of admissions, accepted a Patriot Award for her accommodation of employee Michael Mueller's deployment to the Middle East in 2016 and 2017. Mueller, who has been in the Army and Army National Guard since 2011, is the battalion operations officer for 462 soldiers in a field artillery regiment based in Missouri.
Schure said if an institution's employees have received more than one Patriot Award, the institution may also be recognized with the Above and Beyond Award. In addition to Schilli, Lindenwood employees have received Patriot Awards on at least two other occasions since 2011.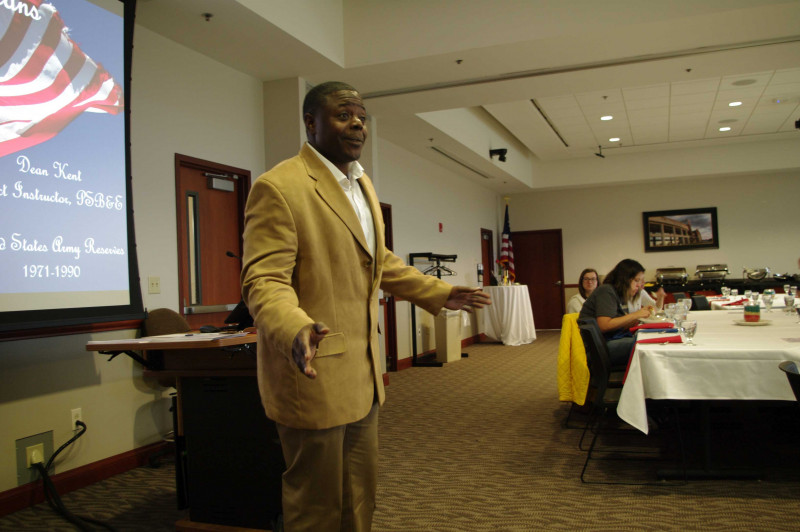 "During my mobilization, deployment, demobilization, and leave prior to returning to work, my supervisor and the rest of my team went far above and far beyond what was asked of them," Mueller said. "My team and my supervisor made my transition into active duty and return to normal civilian life very smooth and effortless. My employee benefits continued while I was away."
Following the award presentation, the lunch commenced with a presentations by MSgt. Seth Miller from Scott Air Force Base, who spoke about military life and answered questions.
Photo cutlines:
Bob Schure, Missouri awards coordinator for the Department of Defense's Employer Support of the Guard and Reserve program, presented Lindenwood University president Michael D. Shonrock with an Above and Beyond Award recognizing Lindenwood's accommodation of employees' military deployments.
MSgt. Seth Miller, from Scott Air Force Base, spoke at Lindenwood University's Veterans Day Lunch on Friday, Nov. 9.