Lindenwood Belleville is about to play its inaugural football season in the $2.3 million stadium, and the school's new turf has been grabbing the attention of local and national media, including a No. 1 spot on Yahoo's trending news stories. Lindenwood University-Belleville is one of only four universities in the country to install a non-traditional green field, and the only NAIA school to do so. Boise State and Eastern Washington went with a solid-colored representation of their school colors, while Central Arkansas is currently the only other university with an alternating striped field. Lindenwood Belleville's turf was manufactured and installed by Enviroturf.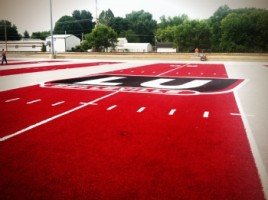 The end zone and sideline bleachers are currently being constructed and concrete has been poured surrounding the outer portion of the stadium. The scoreboard, to be delivered in the next few weeks, will be the finishing touch on Lindenwood Stadium.
Lindenwood Belleville is less than two months away from the first game in Lynx Football history, and the team is anxious to take the field September 1 in its inaugural game against Avila University.