Lindenwood University student Josh Pauls is a member of the United States Paralympic Sled Hockey team that will travel to Sochi, Russia, to compete in the 2014 Paralympic Games March 7-16. The team will depart for Munich, Germany on Friday, Feb. 28, to complete processing and receive uniforms, and then travel on to the games in Sochi.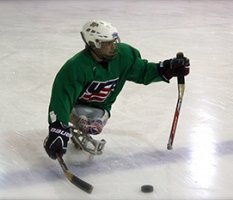 Sled hockey is a fast-paced game played by athletes with a physical impairment in the lower part of the body. It follows the rules of the International Ice Hockey Federation, but with some modifications. Instead of skates, players use double-blade "sledges" that allow the puck to pass beneath them. Two specialized sticks, one with a spike-end and one with a blade-end, are used to propel players and to shoot the puck.
Pauls was born without tibia bones in both legs. At 10 months old, both of his legs were amputated.
"I was so young, it really didn't matter," he says. "When I learned to walk, I learned on prosthetics."
His mother introduced him to sled hockey as a child growing up in New Jersey, but Pauls didn't initially take to the sport. He tried to play again a few years later, but this time without the use of his prosthetics.
"I love hockey, and after I took the legs off it dawned on me that this was the way I'd be able to play the sport," he said. "I was all about it after that."
At 17 years old, Pauls was the youngest member of the U.S. Paralympic Sled Hockey Team to win gold at the Vancouver Winter Games in 2010. He also helped the U.S. win gold at the 2012 World Championships, playing in all five games.
The 21-year-old is currently pursuing a degree in sport management at Lindenwood, but temporarily moved to Colorado Springs, Colo., in January of 2014 to train at the U.S. Olympic and Paralympic training site. He expressed how much he enjoyed being able to focus on preparing for the games and said he's looking forward to the upcoming competition experience in Russia.
"I'll get more ice time during these games, so I'm excited to play a larger role on the team. It's the biggest stage you can play on, and I'm truly excited to go."
Pauls and his teammates are featured in a PBS documentary called "Ice Warriors," which premiered Feb. 24 on KETC. To learn more about the film, visit http://www.pbs.org/wgbh/medal-quest/ice-warriors/.
The Paralympic Games will be broadcast on NBC and NBCSN starting March 7 and streaming live at TeamUSA.org.