A trio of Lindenwood students has developed an app that they say could change the way college students communicate.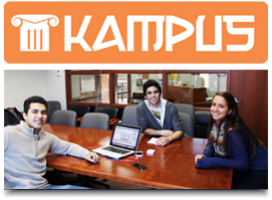 Diego Kafie, Alcides Zeleya and Elisa Schwarz have partnered to create a free social networking app called Kampus. The three Lindenwood scholars recently won a Shark Tank-like competition held on campus in November, judged by none other than Shark Tank's Daymond John.
Kafie said the app has already been launched on iOS in Apple's App Store and will soon be available for Android. The app is "taking Lindenwood by storm," Kafie said, and will soon spread to other college campuses in the St. Louis area and throughout the country.
"This is an entrepreneurial gem," said Professor David Rosenwasser, director of the Duree Center for Entrepreneurship in Lindenwood's School of Business and Entrepreneurship. "We're proud of what our students are doing at Lindenwood." The app allows students to communicate exclusively with other students from their school. It has a variety of features and filters where students will be able to buy and sell items, mingle, purchase discounted products from a variety of nearby stores, and even rate and comment on their professors.
Kafie, from Honduras, said the app was inspired by students' desire for something simpler than Facebook.
"Most people have hundreds if not thousands of Facebook friends," Kafie said. "This app lets you communicate exclusively with your campus community." The app is available for Lindenwood students at https://appsto.re/us/vjyWW.i . A student lionmail account is required to register.
Kampus is not a product of Lindenwood University and is not endorsed or supported by Lindenwood.