Lindenwood University will host its annual free Christmas Walk from 4 p.m. to 8 p.m. on Sunday, Dec. 4. The event will feature activities for all ages on the St. Charles campus, located at 209 S. Kingshighway, St. Charles, Mo., 63301.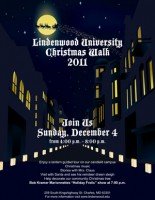 "Buildings will be fully decorated and hundreds of luminaries will light the entire historic side of campus," said Michelle Giessman, director of student housing and event organizer. "There will be several different stations in and around the quad, and we are even expecting Santa Claus himself to be there with his sleigh and one of his reindeer."
Students dressed in period costumes will be conducting lantern-guided tours during the event. Scheduled performances will include the Sibley Fife and Drum Corps from 4 to 5 p.m. at the campus pavilion and Bob Kramer's Marionettes at 7 p.m. in Jelkyl Theatre of Roemer Hall. Guests will also be invited to enjoy musical performances from Lindenwood's choral and instrumental groups, decorate a community Christmas tree, color ornaments, write letters to Santa, and hear stories from Mrs. Claus.
"We will have mulled cider, hot chocolate, freshly baked cookies, and s'mores for everyone," Giessman said. "We encourage all members of the community to come out and enjoy the beauty of the campus and participate in age-old holiday traditions."