The Greater Belleville Chamber of Commerce recognized Lindenwood University-Belleville and The EDGE as recipients of the 2013 Business Excellence Award during the Chamber's Annual Dinner on Jan. 30.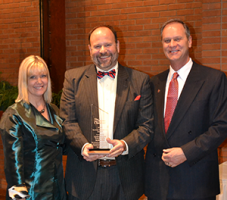 The Business Excellence Award, the most prestigious award given by the Chamber, is awarded annually to a nominated chamber member that best exemplifies the three criteria on which the award is judged: evidence of success by the given company's expansion and financial accomplishments; development and/or utilization of innovative or creative business methods; contributions to the community.
President Jerry Bladdick accepted the award on behalf of Lindenwood University-Belleville.
"This recognition is much appreciated and is in part due to the ongoing and very strong support that Lindenwood University receives from the great Belleville community, its residents, and the Greater Belleville Chamber," said Bladdick. "It is also in part due to the dedicated faculty, staff, and students that show their support and appreciation to the City of Belleville and her residents by providing hundreds of hours of volunteerism to the community. For over 10 years, the Belleville campus of the Lindenwood University system has been providing exceptional educational opportunities in our classrooms and labs and on our fields and stage. We are honored, pleased, and downright excited to have been selected to receive this award."
The Greater Belleville Chamber of Commerce stated it was "honored to award these two members with this award. Their growth, innovation, and contribution to the community make Belleville a better place to do business."
Pictured: Andy Bridgeman (center), President of the Belleville Chamber Board of Directors, presents the award to Dr. Jerry Bladdick, President of Lindenwood University-Belleville, and Ms. Mary Reuter, Assistant Vice President and Executive Director of Community Relations for Lindenwood University-Belleville.