St. Charles, Mo.—The Lindenwood University Theater Department will present the classic musical Guys and Dolls at 7:30 p.m. on March 14 through 16 at 2 p.m. on March 17 at the university's Bezemes Family Theater.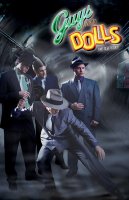 Tickets, which range from $10 to $18, are available at the Lindenwood University Box Office, 636-949-4433, and online at www.lindenwood.edu/center. The box office and the Bezemes Theater are located in the J. Scheidegger Center for the Arts, at 2300 West Clay St. in St. Charles, Mo.
With music by Frank Loesser and book by Jo Swerling and Abe Burrows, Guys and Dolls is based on the short stories of Damon Runyon. It debuted on Broadway in 1950, where it ran for 1,200 performances and won the Tony for best musical. It was adapted into a film in 1955, starring Marlon Brando, Jean Simmons, Frank Sinatra, and Vivian Blaine. It has been revived on Broadway and in London numerous times, most recently in 2009.
The musical portrays the hustle and bustle of a whimsical New York City, exploring the city's underworld of gambling and the colorful characters that inhabit it. Nathan Detroit is the lovable leader who runs illegal crap games and is eager to organize a wild evening of gambling and mischief when he hears the notorious Sky Masterson is in town. The charismatic Masterson bets Detroit that he can get any gal. Detroit accepts and chooses Sarah Brown, the straight-laced conservative leader of the Save-a-Soul Mission. The hilarious story that follows has been called "the greatest musical comedy ever written."
The cast features Peter Colombatto as Sky Masterson, Katie Paszkiewicz as Sarah Brown, Chris Strawhun as Nathan Detroit, and Nicole Cuneo as Adelaide. It is directed by Larry Quiggins. Pam Grooms is music director, and choreography is by Jan Strzelec.
For more information on the Lindenwood University Theatre Department, contact Department Chair Emily Jones at 636-949-4838 or ejones@lindenwood.edu.
Pictured: (front) Peter Colombatto, (back from left) Christian Hake, Kurtis Heinrich, and Adam Martinez.