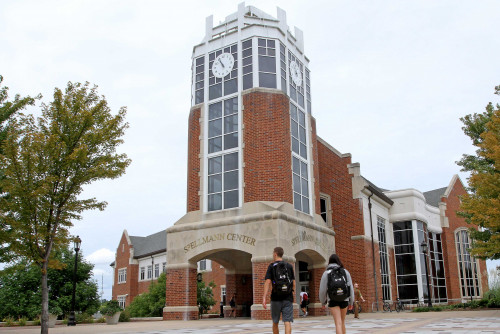 Students returning for the fall 2020 semester will find that Lindenwood has quickly adapted to accommodate student needs presented by the COVID-19 pandemic. Integrated 360 video conferencing and the option of a new take on hybrid classes are just two more ways Lindenwood is ensuring that students and faculty have the resources necessary to move forward in a safe and effective learning environment.
Traditionally, students have the option to take classes on ground or online. The video conferencing software will give students the opportunity to participate in classes remotely and will allow instructors to record lectures so that students can catch up with course work or review class sessions from their residence halls or homes at their own convenience.
"Lindenwood University is proactively working to ensure our students and faculty have the necessary resources to engage in a highly flexible learning environment for fall 2020 and beyond," said TJ Rains, vice president for information technology and chief information officer. "The investment in 360 video conferencing in each classroom represents a comprehensive move to support active engagement in the learning experience. As part of the roll out, faculty will be provided training resources to ensure a smooth transition."
The integrated 360 video conferencing technology will be placed in all 207 Lindenwood classrooms, including the off-site locations in June 2020. The system will be located on the podium at the front of each classroom, allowing students who participating from another location to access a view of their instructor, fellow classmates, and a 360-degree live look of everything that is taking place.
"Lindenwood is as committed to high-quality educational experiences as we are the safety of our students, staff, and faculty," said Mark Arant, provost and senior vice president of academic affairs. "The technologies and processes that we are implementing for the fall will bear evidence to that commitment."
Since Lindenwood's "minimum use" standards for Canvas were established in 2016, instructors were already familiar with posting resources online for their students to access. Students will be able to access the system through Canvas, giving them the ability to participate virtually as if they were present in the classroom. At the discretion of the instructor, video recordings of class sessions will also be available. Students will be able to access their class video recording up to 14 days after the session, in the case that they are unable to attend at their regularly scheduled class time.