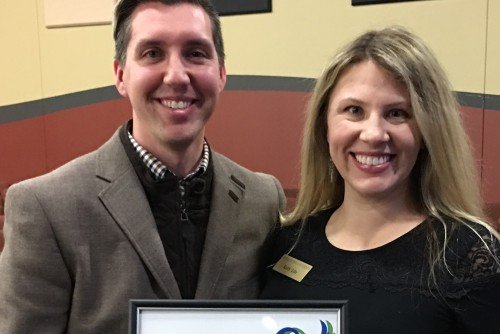 For the second time, Lindenwood University has been named a Best of Western St. Charles County Award winner by the Western St. Charles Chamber of Commerce and Community News. Lindenwood representatives accepted the honor during the Chamber's February membership meeting.
Awardees in nearly 30 categories, ranging from child care to heating and cooling services, were announced following a period of online voting during which thousands of votes were received.
"It is an honor to be selected as the voters' top choice for the second year in a row," said Kelli Lile, director of Lindenwood's extension site in Wentzville, Mo. "Lindenwood is committed to providing a superior education experience that is truly like no other, and we value the support of the community we serve."
Tony Mathews, president of the Western St. Charles County Chamber of Commerce, said the awards have doubled in size and popularity from their inaugural presentation in 2014.
"The Best of Western St. Charles County Awards make a strong connection between our residents and businesses, and they offer residents a chance to highlight the businesses in the community that really do shine."