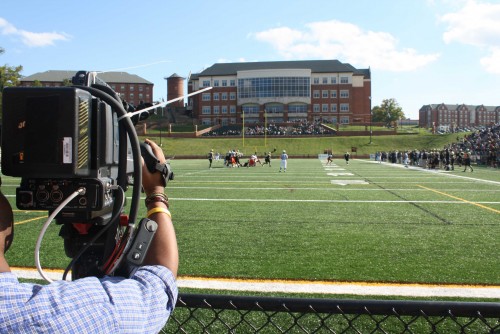 Lindenwood University's student-run television station, LUTV-HD, will receive two NATAS Mid-America Regional Student Television Awards at the Mid-America Emmy Awards ceremony on Sept. 9 at the Chase Park Plaza in St. Louis. A trio of Lindenwood students will receive two awards for live sports and sports program.
Jon Elam, Matt Sabados, and Michelle Sproat will be recognized for their live broadcast of the Lindenwood Lions football game against Missouri Southern University on Nov. 5, 2016, and for their sports program, Lion Pride Sports.
"These awards are well deserved,," said Mike Wall, associate professor of communications in the School of Arts, Media, and Communications. "The real winners here are the corporations that will hire these incredible Lindenwood graduates."
The Mid-America chapter of the National Academy of Television Arts and Sciences, the awarding body of the Emmy Awards, includes the television markets primarily in Missouri, Arkansas, and Illinois, as well as some in Iowa, Kentucky, and Louisiana.
LUTV offers a range of programming including news, cultural, and educational shows, as well as athletic coverage of Lindenwood and area high schools. It can be found at channel 989 on Charter digital cable, channel 99 on the AT&T U-Verse, at frequency 106 on a digital QAM tuner, and online at www.lindenwood.edu/lutv/.