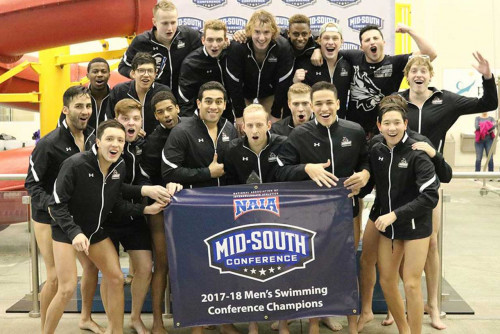 The Lindenwood University–Belleville swimming and diving teams traveled to Kingsport, Tenn., this weekend for the Mid-South Conference (MSC) Championships. The women's team finished second out of eight teams, while the men's team captured its third consecutive MSC championship under new Head Coach Ksenia Gromova.
Throughout the tournament, swimmers on the men's and women's team broke various school and meet records.
School records include
Women's 400 IM by freshman Alina Geck
Women's 100 butterfly by freshman Amelie Essmann
Women's 100 breaststroke by freshman Anna Martens
Women's 200 butterfly by freshman Marie Geck
Men's 100 butterfly by freshman Martin du Teilleul
Meet records include
Men's 200 medley relay by du Teilleul, seniors Timo Billman and Paul Elaisa, and freshman Carolus Josefina
Men's 200 freestyle relay by Billman, Elaisa, du Teilleul, and junior Badr Benassila
Women's 200 butterfly by freshman Marie Geck
Men's 200 butterfly by Billman
The men won the tournament by 50 points, the biggest margin of victory that they have ever had.
Earning the most points for the men were du Teilleul, sophomore Neils Engeln, and senior Tim Schmalzreich. On the women's side, Marie and Alina Geck, Amelie Essmann and freshman Chelsea Merfol scored the most points. Merfol also had the most swims per day with six swims on day two and a win in the 200 backstroke.
In the 100 freestyle race, the men finished first, second, and third and won every relay. In the 200 butterfly race, the women finished first, second, and third.
"I am beyond excited about how both the men and the women performed this past weekend," Gromova said. "I have been very blessed to have been able to coach such a great group of people that have helped me through my first year as head coach here, and the men winning in such dominating fashion and the women finishing the highest they ever have in program history is very fulfilling."
The Lynx now have 18 national qualifiers from the MSC tournament.
The swim team will now travel to Columbus, Ga., for the NAIA tournament on Wednesday, Feb. 28 through Saturday, March 3.
Fans, make sure to stay updated on lindenwoodlynx.com throughout the 2017-18 season for full updates and recaps on the swimming and diving team.