Veterans who enroll at Lindenwood University will again study at a "military friendly" school–a designation the university has earned for the seventh consecutive year–according to the 2016 Military Friendly School list published recently by Victory Media. Only 15 percent of colleges, universities, and trade schools nationwide receive it each year.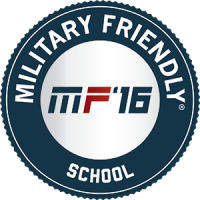 Additionally, within that group, Lindenwood University was recently recognized by Victory Media as one of the top 25 military friendly schools in the country.
The military friendly designation, which is based on research, surveys, and other data, recognizes policies and practices to recruit and retain students who are members of the U.S. military or are veterans of the military. Donna Simms, director of the University's Veterans Affairs Center, said she was proud to contribute to the university's efforts.
"This continued recognition cannot be attributed to one person, but every staff and faculty member at Lindenwood who endeavors to achieve President Abraham Lincoln's objective: '…to care for him (her) who shall have borne the battle and for his (her) widow(er) and his (her) orphan,'" Simms said.