Veterans who enroll at Lindenwood University for 2015 will study at a "military friendly" school, an honor the university has earned for the sixth consecutive year, according to the latest list published this week in G.I. Jobs Magazine. Only 15 percent of colleges, universities, and trade schools nationwide receive it each year.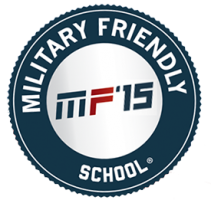 The designation, which is based on research, surveys, and other data, recognizes policies and practices to recruit and retain students who are members of the U.S. military or are veterans of the military.
"This honor is indicative of the caring faculty, staff, and administration who constantly go above and beyond what is required of them to assist our military service members and veterans," said Donna Simms, director of the university's Veterans Affairs Center. "I am overjoyed that Lindenwood has received this recognition again."
Lindenwood University, founded in 1827, is an independent liberal arts university offering more than 120 undergraduate and graduate programs in diverse areas of study¬ in traditional and accelerated formats, including online. Lindenwood operates a residential campus in historic St. Charles, as well as 11 extension sites throughout the St. Louis Metropolitan Area.