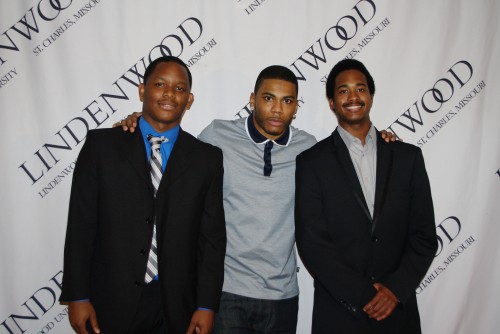 Grammy-award winning rapper and hip-hop artist Nelly came to the Lindenwood University campus Friday to assist in presenting two scholarships to St. Louis-area students.
The scholarships went to Savoy Smith from McCluer South-Berkeley and Kalen-Mikal Grant from Riverview Gardens High School. Grant is majoring in marketing and Smith is majoring in psychology.
The annual Black and White Ball scholarship ceremony is a sponsored by Lindenwood's Black Student Union, Plaza Motors, and Nelly. In 2008, Lindenwood partnered with Nelly to award two, four-year, full-tuition scholarships to first-year students who lived in the St. Louis metropolitan area. Lindenwood University's Black Student Union is instrumental in administration of the scholarship applications, planning and execution of the award ceremony, and participation in the Black and White Ball itself, said Cathy Hart, faculty advisor for the group.
Lindenwood President Dr. James Evans gave the opening remarks at the ceremony, and professors Shane Williamson and Pernell Witherspoon introduced the program and provided the closing remarks, respectively. Jasmine Porter, president of the Black Student Union, served as mistress of ceremonies.
At Riverview Gardens, Grant was involved with DECA, the National Honor Society, and One-Act Play. Grant led his DECA team to the DECA International and state competitions. He was the Riverview Gardens student speaker at convocation. Grant's career goal is to work in the marketing industry. He was described by a Riverview teacher as a student "who demonstrates the necessary knowledge and skills to work in a cooperative group setting to complete projects under strict deadlines and recognizes the importance of strong work ethics, persistence, and intellectual integrity for academic success."
At McCluer South-Berkeley, Smith was the president of DECA, was involved with the FBLA and a member of the varsity track team. Smith led the DECA team to state, and served as the school's college ambassador for two years. Smith's career goal is to become a psychiatrist. He was described by a McCluer South-Berkeley teacher as "very disciplined and demonstrating a maturity level that is beyond his peers."