Lindenwood University's 2012-2013 Nonprofit Professional Development Series will continue in April with a presentation by Patrick Walker, JD, MBA, associate professor of nonprofit administration in the university's School of Human Services. He will deliver the address, "Legal, Regulatory, & Governance Best Practices: Critical Governance Insight for Social Entrepreneurs, Nonprofit Advocates, and Other Catalysts Who Work to Change the World," from 3:30 to 5 p.m. on Wednesday, April 10, in the Memorial Arts Building's Latzer Hall.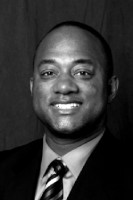 During the seminar, Walker will outline the evolution of managerial and legal insights used in decision-making processes among nonprofit organizations. He will discuss issues regarding compliance, conflicts of interest, and corporate legal liability.
Walker is a first generation college graduate, professor, and lawyer with more than 15 years of demonstrated expertise in educational and organizational leadership, governance, compliance, and program management and assessment. His research interests include interdisciplinary approaches to small business and nonprofit matchmaking, and his work has been published in several management and law journals and presented at various industry conferences.
The Memorial Arts Building is located on Lindenwood's St. Charles campus at 209 S. Kingshighway in St. Charles, Mo. The cost to attend is $15 in advance or $25 at the door if space permits.
To register, contact Julie Turner, associate professor and chair of nonprofit administration, at (636) 949-4652 or jturner@lindenwood.edu.